FOOTBALL: Lance Estus leads the 2013 Walker County Football Dream Team Offense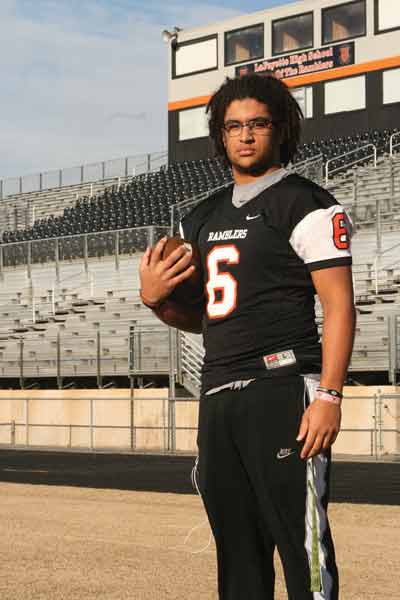 There was a time in the days leading up to his freshman year of high school when it looked as if Lance Estus would be the starting quarterback for the LaFayette Ramblers.
It took three more years for Estus to finally reach that potential.
Estus gave up football during that freshman season to concentrate on his basketball skills. And while Estus has become one of the best and most consistent players in the LaFayette basketball program, and in the entire region, he said there was always that little voice in the back of his mind calling out for him to give the gridiron one more shot.
In 2013, Estus finally answered the call.
At the urging of new Rambler head coach Chad Fisher, the senior went out and earned the title of starting quarterback in pre-season camp, and today he's earned one more title as the Walker County Offensive Player of the Year.
The 6-foot-1 signal-caller completed 128-of-224 passes this past fall for 1,411 yards and nine touchdowns, while rushing for three more scores.
"It feels amazing to be the Offensive Player of the Year," Estus said. "I have to give credit to my teammates, especially my offensive line for giving me the time to do what I have to do. I also have to thank my receivers and backs for making me look good out there. I couldn't do it without them."
Estus said he was happy with choice he made to give football another try.
"I sat out my sophomore and junior years because I knew we had a chance to be pretty good in basketball and I didn't want to risk it," he explained. "But I still regretted it, so after Coach Fisher came in and sat down and talked to me, I decided to play again. If I got hurt playing football, I was at least going to get hurt with the guys on the team. Knowing how much love I have for all those guys, it made the decision to play that much easier."
Fisher said it didn't take Estus long to get back into the swing of things on the field.
"He learned the offense extremely well," the coach said. "In the early spring and summer, we were looking for a quarterback and it was at a passing camp later in the summer when things started to click for him. He really started to understand the role we needed him to play and he just got better as the year went on."
Estus endured a bit of a slow start once the season began, but it was a game against Southeast in Week 5 that the potential began to turn into production.
He went 20-of-24 for 179 yards and a pair of TD tosses agianst the Raiders, and followed up with a 14-of-20 performance against Heritage when he threw for a season-best 247 yards and three scores.
Estus, however, saved his best for last.
He went 23-of-39 for 235 yards and two TD's in a 32-29 win over Ridgeland — the first win for the Ramblers over their county neighbors in 10 years — and capped his year with an 8-for-10 showing at Johnson-Gainesville. He played only the fourth quarter, but threw for 163 yards and ran for a score before throwing the game-winning TD pass in the waning seconds.
"He was banged up that last game and maybe took two reps in practice that entire week," Fisher said. "But he went in there when we needed him and he was able to drive us down the field twice for touchdowns. That really says a lot about him.
"The kid's a gamer and he's the type that really steps up when the lights come on. He lives for the competition and that's what separates him from others. I would love to have him for three more years."
THE REST OF THE 2013 WALKER COUNTY DREAM TEAM OFFENSE
RB - Noah Cooper (Ridgeland) - Despite some nagging injuries during the season, the senior picked up 620 yards with three 100 plus-yard games and scored 11 rushing touchdowns.
RB - Caderius Word (Ridgeland) - The sophomore had a breakout season by rushing for nine touchdowns and a county-best 733 yards, in addition to two TD passes.
WR - Garret McAllister (Gordon Lee) - The senior shined in his move to receiver, leading the Trojans with 352 yards on 35 receptions with a pair of touchdowns.
WR - Hunter Clark (LaFayette) - The senior benfitted from the Ramblers' pass-happy offense by catching 28 passes for 355 yards and three scores with a 12.7-yard average.
WR - Clayton Underwood (LaFayette) - The senior became Mr. Dependable for Estus and the LaFayette passing attack, leading the county in catches (48), yards (456), and TD's (4).
ATH - Calvin Davenport (Ridgeland) - The quick-as-a-hiccup junior was a perfect change-of-pace back for the Panthers, rushing for 624 yards and seven TD's on just 86 carries.
OL - Ty Ferguson (LaFayette) - The senior was a hard-working, dependable anchor in the trenches, protecting for an offense that put up over 2,000 total yards.
OL - P.J. Gardner (Ridgeland) - The junior earned an All-Region second team nod in 7-AAAA after opening up holes for a rushing game that produced over 2,000 yards.
OL - Garett Kerns (Gordon Lee) - The senior helped take charge on a rebuilt Trojan line and provided leadership on both sides of the line of scrimmage.
OL - Jake Rogers (Gordon Lee) - The physical junior showed that his talents are not restricted to the baseball diamond as he stepped up his game along the line.
OL - Josh Skates (Ridgeland) - Region 7-AAAA Honorable Mention honors went out to the senior, who capped a solid career up front for the Black-and-White.
P/K - Ivan Ojeda (Ridgeland) - The sophomore had big shoes to fill and did just that by going a perfect 30-of-30 in extra points attempts and booting a 38-yard field goal.
The Walker County Football Dream Team Offense was selected by Walker County Messenger Sports Editor Scott Herpst based on performances throughout the 2013 season and input from county coaches. Text and photo by Scott Herpst.