FOOTBALL: Handling adversity a big key for Gordon Lee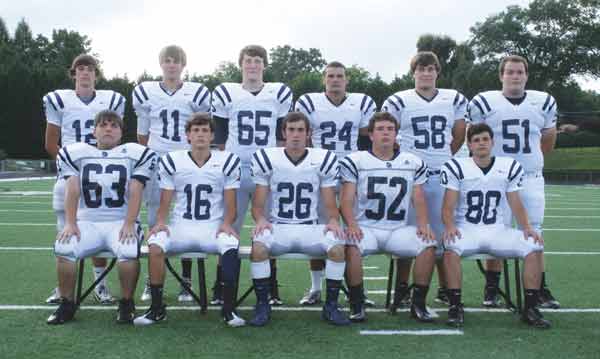 Halfway through the 2012 season, the Gordon Lee Trojans seemingly had things going in the right direction, using a five-game winning streak to sit atop the subregion standings going into their Oct. 12 open date.
That's when the football gods stopping smiling on the Trojans.
Gordon Lee dropped its final four regular season games after the break, failing to score a single point in three of them. They were able to hang on to earn spot in the Class A public school field of 16, but the playoffs were short-lived after a 46-12 loss to Emanuel County Institute, who went on to win the state title.
While a tougher schedule was partly to blame for the turnaround — four of Gordon Lee's last five opponents all made the playoffs with three advancing to at least the state quarterfinals — head coach Charlie Wiggins said there were other factors involved.
"I think it was a combination of things," he said. "We had some key injuries and a bug went through the team about mid-season. Two of those games we only ended up losing by a touchdown or less. We win those and we're looking at 7-3. But whether it was mental toughness or just not making the plays, we found a couple of ways to shoot ourselves in the foot down the stretch."
Wiggins is hopeful that his team has learned from the painful experiences of last fall as he gets set to raise the curtain on his second season as head coach in Chickamauga.
"We've been trying to just focus on doing our jobs," he explained. "Last year, we went to a 7-on-7 camp in the summer and we got easily flustered and let our emotions show when things went wrong. This year, we went to the same camp and we didn't have those issues. We just competed. We didn't win all our games, but we tried to do things the right way.
"The ultimate goal is to win and play the right way, where every player is accountable to their teammates. It's not about individuals, it's about us at Gordon Lee."
Wiggins said his team was able to set down a foundation last fall, adding that he hoped this year's team would be able to start building on top of it.
"Whenever you build a house, you have to go back and re-inspect things and fix them to make sure they are good before you can move on," he said. "This year, we have to fill in a few cracks in the foundation so we can start putting up the walls."
One of most glaring places that needs some holes filled is along the line of scrimmage, where the Trojans were hit the hardest by graduation.
Junior Dallas Goodlet, an All-Subregion selection, will be back at center, while seniors Jake Rogers, Tristan Crabtree and Garrett Kerns were all part-time starters a year ago.
Seniors Jake Butcher, Clayton Ware and Nick Rousseau are among those battling for starting spots, along with junior Tyler Smith, sophomores Ryker Smith, Jarod Streetman, and Spencer Wilson, and freshmen Andrew Wilson.
Many of those same players will also do double-duty on the defensive line, which lost five seniors from a season ago.
However, if a new offensive line can gel quickly, the Trojans are capable of putting up points as most of the team's skill position players return.
"Our offense is really a hybrid of a spread, an I-formation, and a split-veer," Wiggins explained. "We're going to try to maximize our kids' abilities by doing whatever we need to do and by using whatever we need to use to give us a chance to be successful."
That could mean rotating quarterbacks on a down-by-down basis depending on the situation. Seniors Zack Cobb, Hayden Casteel, and Garret McAllister all took snaps last year and all will take snaps again this season, although all three will likely be on the field at the same time in some capacity.
Cobb finished with nearly 1,300 all-purpose yards last season (852 coming on the ground) and 10 total touchdowns. Casteel and McAllister will play receiver when not under center, and Wiggins said both have performed well at the position in 7-on-7 competitions this summer.
Sophomore Caleb O'Neal and incoming freshman Logan Hill could also see a few snaps before the season is through.
"Whoever is back there has to make good decisions," Wiggins said. "They have to be able to put the ball where it needs to be, not make the critical error, and understand that at times it is okay to punt and play defense. They have to be able to play within themselves and keep us out of negative situations, and that goes for all our offensive players, not just quarterbacks."
Cobb will lead a committee of running backs. Joining him in the backfield will be senior Gabe Veazey and juniors Hunter Teeters and Dalton Owens, who combined for close to 700 yards rushing despite battling injuries a year ago. Wiggins also has plans for sophomores Andrew Towns and Braxton Salmon and freshmen Drew Cobb and Evan Clayton.
Seniors Nate Young and Chase Wood will join McAllister and Casteel at wideout, while juniors Colin Wright and Scott Royal have shown plenty of promise. Sophomores Nick Wilson, Sean Coakley, Logan Parrish, and Austin Sturdivant, along with freshman McKinnon Young, are also vying for playing time.
Another area of concern is at linebacker where the Trojans lost All-State player Bryce Bailey among others.
Goodlet had 70 tackles and five sacks from the inside a year ago, but many new faces will have to step up, including Veazey, Rogers, Owens, Salmon, O'Neal, Towns, and Clayton.
Zack Cobb earned post-season honors as a defensive back, recording 52 tackles and picking off two passes while breaking up seven more. Casteel will add senior leadership in the secondary, while Wright and Royal also have experience from last year. Other names to watch include Wilson, Coakley, Hill, Drew Cobb, sophomore Andrew Coulter and freshmen Jake Leiviska and Aaron McCurdy.
Salmon and Nate Young will handle the kicking duties, while punting duties were still up for grabs as of press time. Zack Cobb racked up nearly 500 return yards a year ago.
Wiggins says making good decisions and doing the little things right will lead to big plays, but he says being able to handle adversity may be the biggest key for his team in 2013.
"(Handling adversity) is one of the things we didn't do such a good job with last season," he added. "We can't lose our composure when things don't go our way. We just have to line up and play the next down knowing each new down is an opportunity to make something happen."