FOOTBALL: Cedartown wins alumni game against Pepperell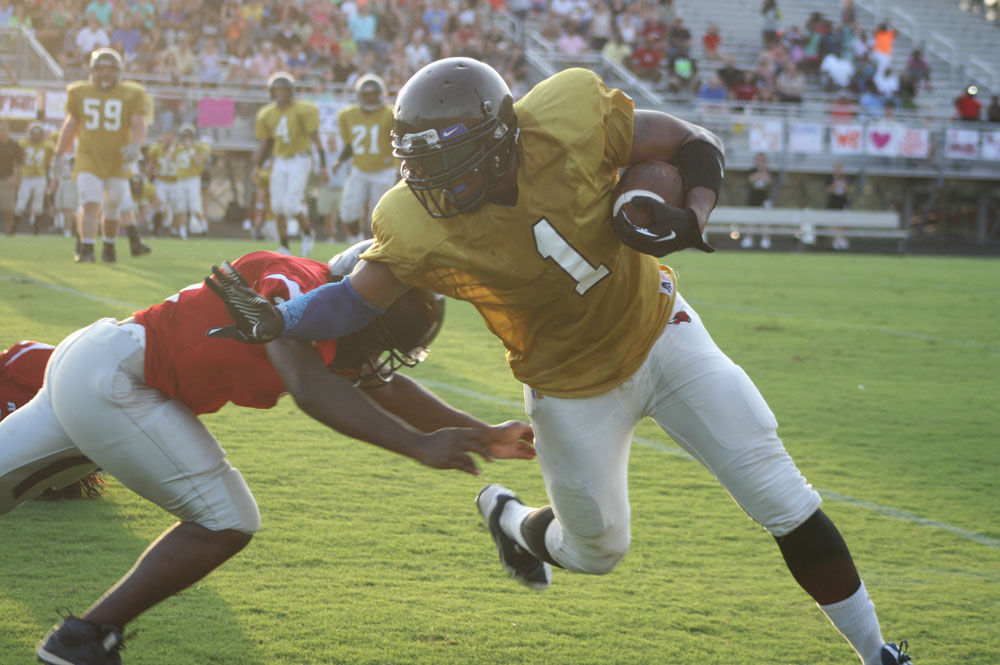 The Cedartown alumni football team pulled out an overtime win in the first matchup between the Bulldogs and Pepperell Dragons to raise money for both football programs.
The alumni Bulldogs came away with a 17-14 overtime win after keeping the Dragons out of the endzone on their only possession after regulation, then kicked a field goal for the win.
Bulldogs coach Milton Hunnicutt said he was excited by the first win for the alumni team, which came with a Battle of Highway 27 trophy for the Bulldogs to hold onto until next year.
"It was unbelieveable, it was really a great football game," Hunnicutt said. "There were a lot of mistakes of course, because there wasn't as much practice time and these guys haven't played in so many years. Overall, the play was high quality. It was a fun football game for people to watch."
The Bulldogs came out swinging midway through the first quarter off a touchdown pass between quarterback Adam Allen and wide receiver Corey Gardhigh.
Pepperell answered after being stopped for two series by the Bulldogs defense with a 2-yard touchdown run by Caleb Beard. The Dragons missed the extra point.
Cedartown scored again in the second quarter off another touchdown pass between Allen and Gardhigh to cap an 85-yard drive.
The Dragons finally tied the game early in the fourth quarter off a nine yard scramble into the end zone by Pepperell quarterback Brandon Loverring, followed by B.J. Stewart running into the end zone for a two point conversion.
Pepperell looked to threaten again, but a Cedartown blocked punt didn't go the Dragons way after the Bulldogs' William Dorsey came up with the ball.
It came down to overtime and a big fourth down stop in overtime for the Dragons, who couldn't come up with the inches they needed to score. Cedartown took it to fourth down before they kicked the winning field goal.
Hunnicut said he hopes the game will continue.
"It's good for both programs, to raise both awareness for the Dragons and Bulldogs football teams and to get alumni involved in the programs.
For Loverring, it was a chance to get back on the gridiron, one he said he thinks he'll take up again next year.
"At this age, you're playing men's softball and golf on the weekend, so it was pretty interesting," he said. "I didn't know what to think until about halftime, then it kicked in and I realized that this was a real football game."
Not so for Cedartown Class of 1983 graduate Jerry Ammons, who waited 31 years for the opportunity to play again. After Saturday's game, he said he's hanging up his helmet and pads for good.
"I wished I could do it again, so I had to take the opportunity to do it," he said. "But I think this about does it. I'm 50 years old, and I don't need to be out here anymore. At least I got to fulfill my dream."
Alumni Football USA raised $5,000 in gate receipts for both football programs.