FOOTBALL: Cedartown star running back opts for more time before committing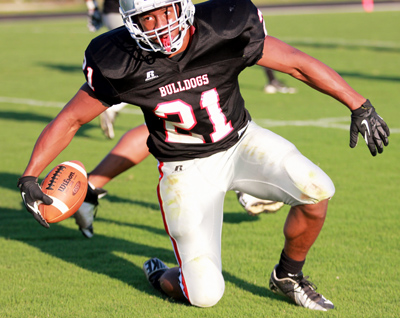 Cedartown High School star running back Nick Chubb has opted for more time before making a verbal committment to a college.
Chubb, who broke the Georgia regular season rushing record last fall as a junior by running for 2,697 yards in 10 games, had originally said he would verbally commit on May 28. However, due to a scheduling conflict with a visit to South Carolina, Chubb has now pushed that decision back.
Chubb, who has over 20 Football Bowl Subdivision (FBS) offers, indicated to UGASports.com that he would make a decision soon.
Last season Chubb was named the Atlanta Journal-Constitution's Class AAAA Offensive Player of the Year, the Rome News-Tribune Co-Offensive Player of the Year, and the Region 7-AAAA Co-Offensive Player of the Year after his record-breaking junior campaign.
Chubb was also named to the Associated Press Class AAAA All-State first team, the Rome News-Tribune All-Area first team and he was named as a member of the CBS MaxPreps 2012 Medium Schools All-American football team.
He has offers from Alabama, Georgia, Florida, Tennessee, South Carolina, Arkansas, Miami, Mississippi State, Florida State, Georgia Tech, Auburn, Notre Dame, Ohio State, Penn State, Stanford, Texas, Vanderbilt, Wisconsin, Arizona, Michigan State, Purdue and Nebraska.
The standout running back, who ran for 38 touchdowns, has narrowed his list of schools to three Southeastern Conference squads.
Chubb, who is listed as a four-star prospect by Rivals.com and as the 70th best overall player in America, has named Auburn, South Carolina, and Georgia as his final three schools.