FOOTBALL: Cedartown's Nick Chubb picks UGA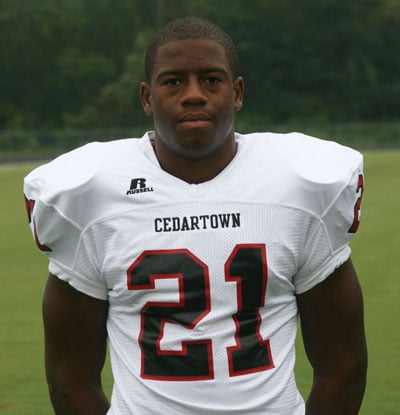 Cedartown High School standout running back Nick Chubb has had a lot of amazing moments during his high school football career. But Tuesday, June 11 will be a moment Chubb never forgets.
Inside the gymnasium at Cedartown High School, in front of around 200 people and live on Fox 5 television, Chubb made the announcement that he plans on signing with the University of Georgia.
The announcement sent the gym into a frenzy with chants of UGA drowning out Fox 5 sports anchor Ken Rodridguez as he attempted to interview the Chubb family.
Chubb, who can't officially sign a binding letter of intent with Georgia until Feb. 5, 2014, said the decision came down to Georgia and Auburn. South Carolina was his third choice.
"It came down to those two schools," Chubb said. "The difference was I really bought into Georgia. I bought into what they were saying to me."
Chubb made five unofficial visits to Georgia, however going into the live show on Fox 5 they had yet to hear from him that he was planning on attending their school.
"I guess they found out (a few minutes ago) but I think they already had a clue that I was going to commit to them," Chubb said.
Chubb, the No. 1 rated running back in the state of Georgia, said he chose the Bulldogs for a trio of reasons.
"They recruited me more than any other school," Chubb said. "I think they worked real hard to get me and I just felt the most comfortable in Athens. I liked them most of all."
As a junior Chubb broke the Georgia regular season rushing record last fall by running for 2,697 yards in 10 games. He also scored 38 touchdowns.
The four-star prospect by Rivals.com was named the Atlanta Journal-Constitution's Class AAAA Offensive Player of the Year, the Rome News-Tribune Co-Offensive Player of the Year, and the Region 7-AAAA Co-Offensive Player of the Year after his record-breaking junior campaign last year.
Chubb was also named to the Associated Press Class AAAA All-State first team, the Rome News-Tribune All-Area first team and he was named as a member of the CBS MaxPreps 2012 Medium Schools All-American football team.
He had offers from Georgia, Alabama, Florida, Tennessee, South Carolina, Arkansas, Miami, Mississippi State, Florida State, Georgia Tech, Auburn, Notre Dame, Ohio State, Penn State, Stanford, Texas, Vanderbilt, Wisconsin, Arizona, Michigan State, Purdue and Nebraska.
"I am really proud of Nick," Cedartown head coach Scott Hendrix said. "He has set the bar pretty high."
Hendrix said that Tuesday's event with Chubb verbally committing live on an Atlanta television station and the support he received was truly special.
"This is really, really good for our program," Hendrix said. "A television station coming to Cedartown and all these people coming out just to hear one of our kids make an announcement, this is great. It is such a positive reflection on our program."