FOOTBALL: Cedartown has small staff this year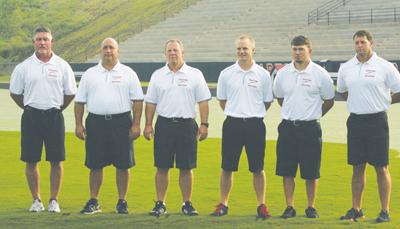 The Cedartown High School football team may not have many coaches, but the coaches they do have head coach Scott Hendrix says is a great bunch.
"We have myself and six others and I'm certainly happy with the guys we have," Hendrix said. "The majority of us have been together for four seasons, so that's continuity. Plus, they are a good group to be around."
Joining Hendrix as coaches on the 2013 football staff are Tony Lundy, Mikey Worthington, Benjie Frazier, Jeremy Ruark, Edward Graves and Barry Williams.
"We have real quality people," Hendrix said. "They are good role models for our student-athletes."
Williams, also an assistant principal at the high school, will be the new defensive coordinator this fall. He will also coach the nose guards.
"We went to a 3-5 scheme and we had to arrange our staff to meet those needs," Hendrix said. "And because we are going to use a tight end so much this season, we needed a tight end coach as well."
Worthington will coach the tight ends and defensive ends this season. Frazier will handle the outside linebackers and running backs, while Ruark will coach the inside linebackers and the offensive line.
Graves returns to teach the wide receivers and the cornerbacks. Lundy is back as the offensive coordinator and he will also have to coach free safeties.
"Our coaches are going to have to coach both sides of the ball this year," Hendrix said.
The fourth-year Bulldogs head coach was also quick to point out how much the staff cares about Cedartown.
"These coaches really care about our community and our school," Hendrix said. "We all bleed red and black, and we take it personal. We all want these student-athletes to excel on the field and in the classroom, and we want to make our community and school proud."