FOOTBALL: Blue Devil standing tall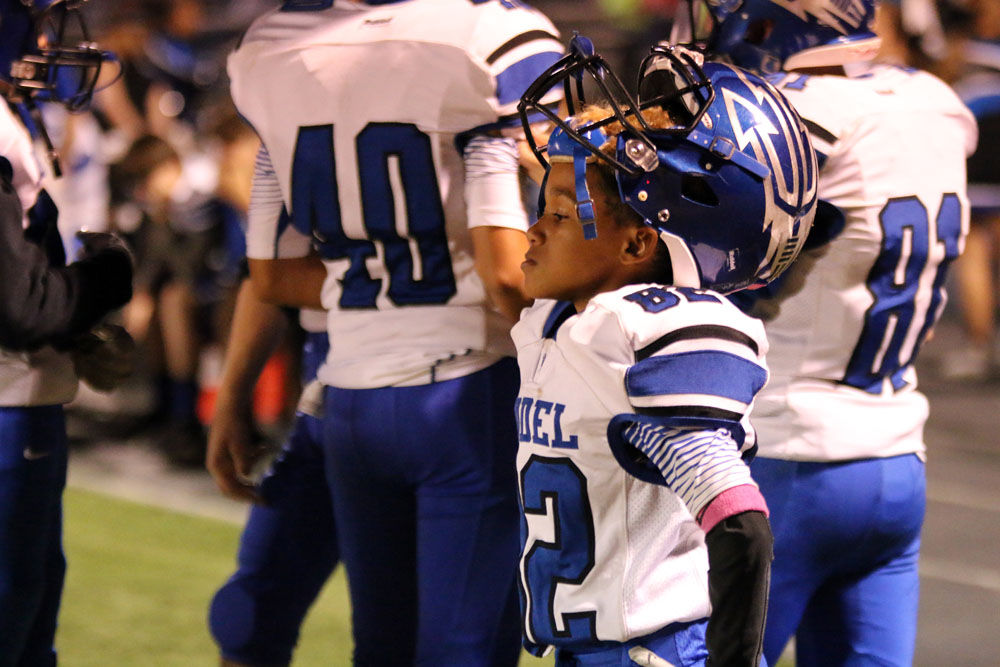 Model football coach Gordon Powers has come to expect the same puzzled look on the opposing coach's face on Friday night's when they look across the field.
They're looking at Elijah Wells, a freshman wide receiver for Model who stands only 4 feet tall and weighs around 65 pounds.
But Wells is not any sort of gimmick. He's a legitimate player for the Blue Devils who has worked his way there.
"The only difference that anyone sees in him is his size," Powers said. "He's got heart, he works as hard, he runs as hard, does his conditioning and does his weight training, the whole thing. He does everything he's supposed to do and needs to do."
Wells suffers from pituitary dwarfism, a disorder of the pituitary gland that limits growth. But he's been playing football for the past nine years, knowing he's probably the smallest guy on the field and not letting that get to him.
Allowing her son to play football has never been in question for Wells's mother, LaMisha Diamond.
"I don't worry about him playing, he does things just as everyone else," Diamond said. "And he has to give 1000 percent compared to the other players, but he does that. He has the most heart of anybody I know."
Size has never been a problem for Wells, partially due to his speed and aggressiveness. He played both offense and defense all throughout his early years, and led Model Middle School's team in tackles one season.
When he joined Model High School's teams for spring practice in May, Wells was excited to do whatever he could for the team, and Powers took notice. The freshman was one of the few players who had perfect attendance over the summer, not missing a single workout or practice.
The hard work pays off on nights like last Thursday, when Wells took the field during Model's junior varsity game against Coosa. He caught a screen pass that led to a gain of eight yards and an emphatic celebration on the Model sideline.
Wells would take a hit on the play, but he would bounce off the player and gain a few more yards. He joked later that he could hardly feel it with all of his adrenaline.
"I know it was a hard hit, but at first it just knocked me off balance," Wells said. "I was about to get a few more yards before getting tackled. But you're always going to take hits in both games and practice."
Wells comes from a family of football players, most notably his cousin Nick Chubb, starting running back for the Georgia Bulldogs. The two have attended each other's games and have known each other long before Chubb's Sanford Stadium fame.
And with every new mark Chubb makes at Georgia, Wells said he feels further encouragement to play his best.
While Model's JV team has finished its 2016 schedule, Wells is still dressing out with the varsity team like he did this past Friday at Chattooga. He's earned his place on the sidelines, just like every other player.
"I know I'm a part of the team, and so do all of my teammates," Wells said. "People can say things, but I just keep going. I'm just going to keep working hard."