FOOTBALL: Big plays doom Lions early against Dominion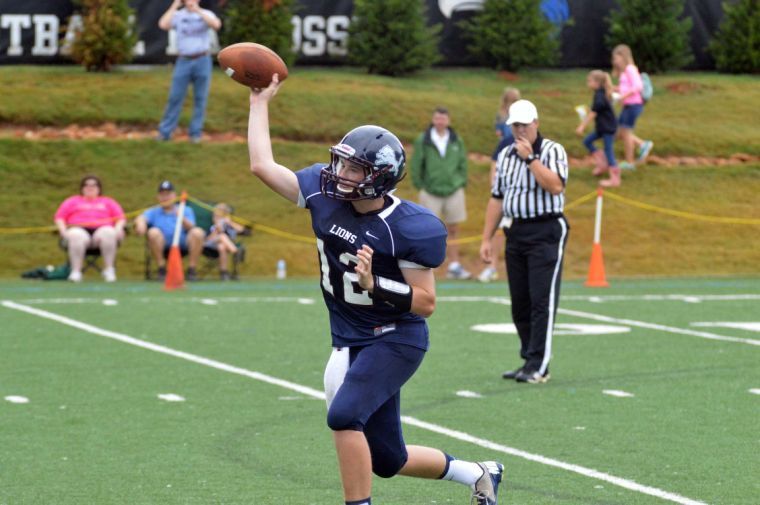 Two key plays in the shadow of the end zone in the first quarter spelled doom for the Unity Lions and opened the offensive floodgates for the visiting Dominion Christian Knights on Saturday at Ben Brady Field as the Lions fell 47-6.
Trailing by seven in the first quarter, Unity's offense found rhythm on their second possession, driving to the Knights four-yard line before turning the ball over on downs.
The Lions' defense managed to put the Knights in a third-and-long situation deep in their own territory, but Dominion quarterback A. J. Wilson hit Luke Lewallen on a short pass.
Lewallen caught the ball and raced past the first down and the entire Unity defense for a 95-yard touchdown and a 14-0 lead.
The Knights scored four more first-half touchdowns, grabbing a 40-0 lead.
"There isn't much good you can take away from a game like that. The bottom line is that we've got work to do," Unity coach Joe Curtiss said.
"I felt better going into the game, but right now we've got guys that have got to step up."
A week after falling to ICSGA North Region foe Loganville Christian 41-6, Curtiss felt like his Lions were ready to compete with the Knights.
After forcing Unity to go three and out on the first series of the game, a poor punt put the Knights in great field position.
On their opening play, senior tailback Brandt Kierta raced 31 yards up the middle for the score and a 7-0 Dominion lead.
Unity's offense threatened again late in the second quarter, driving inside the Knights' 20-yard line, but a Dominion interception ended Unity's last scoring threat of the first half.
With a running clock in the second half, Dominion added one more touchdown, extending the lead to 47-0.
Unity failed to give up, though, as the Lions mounted a drive late, reaching the end zone on a nine-yard pass from Cameron Atkinson to Anderson Krueger.
Unity couldn't convert the two-point attempt. Atkinson took over the quarterbacking duties during the game from Kruger, who moved to receiver.
Krueger ended the day completing 10 of 14 passes for 84 yards while Atkinson finished nine for 14 with 75 yards.
Markele Smith led Unity Christian receivers with 117 yards on 10 catches.
Unity's defense has allowed four opponents to score 35 or more points this season, causing some concern for Curtiss.
"We're going to have to work on cleaning things up (on defense)," Curtiss said.
"We're missing tackles. We've got guys in spots where they're supposed to be, but they're missing plays. We're going to have to go and fix it."
Unity (2-3) plays Creekside Christian next week before drawing a bye week on Oct. 4.
Over the past couple of years, Unity has had tough stretches in the middle of the season only to recover and reach the playoffs.
"We've all got to step up. I always like to say you've got to hit your stride right about now and we're not there," Curtiss said. "We better do some things different or it's going to be tough."
Jim Alred is New Media Director for News Publishing Company.​