FOOTBALL: Barron Taylor signs with Maryville College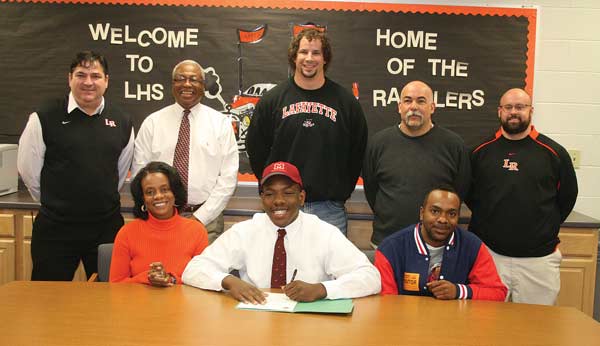 Throughout history, Scotsmen have been characterized by their dependability, their desire to be well-educated, their ability to lead, and their love of sports.
All of which makes Barron Taylor's decision a seemingly perfect fit.
Friends, family, and coaches joined the LaFayette senior as he signed a football letter of intent on Friday to join the Maryville (Tenn.) College Scots.
Taylor called the signing "amazing".
"I just feel blessed to be here and to have this opportunity that I've dreamed about my entire life," said the 6-foot, 220-pound lineman. "I just have to go there, stay humble, play to the best of my abilities, and just do what the coaches say. I'm happy to be going there."
He said he met coaches from a handful of other schools, but that Maryville was the school that showed the most interest.
"I just felt comfortable when I visited there," he said. "(Choosing Maryville) felt like the right thing to do."
Taylor was a standout on both sides of the line of scrimmage for the Ramblers.
He earned second team All-Region honors this past fall, recording 124 tackles (57 solo) with nine tackles for loss on the defensive side. He was also named to the Walker County Offensive Dream Team after grading out at 92 percent and recording 12 pancake blocks.
"I only have focus on one position now, but I know the level of play is going to increase," said Taylor, who will play defensive tackle for the Scots. "It's going to be a lot tougher, but I'm ready for the challenge."
Taylor also wrestled in his junior and senior seasons. He finished second in 7-AAAA at 220 pounds and qualified for state in his final season on the mat.
"After 18 years of doing this, you come across some kids that aren't just special on the field, but special in the locker room, the classroom, and in their community too, and that's what Barron is," said Keith Mariakis, who coached Taylor in football and wrestling. "He's already succeeded, and now he's just going to add to that success."
Mariakis said Taylor's strength was one of the keys to his success.
"He's a deceptively strong kid," the coach continued. "A lot of guys looked at him and thought they could just run him over, but pound-for-pound, he's probably one of the strongest kids to ever come through LaFayette. Maryville will probably put another 40 pounds of solid muscle on him and he'll look like a different kid in another six or seven months."
Taylor said he also chose Maryville for its commitment to academics.
"They take academics extremely serious up there," added Taylor, who carries a 3.3 grade point average and has straight A's as a senior. "But the teachers work with you and there's lots of study hall available."
Tommy Swanson, who coaches Taylor on the track team, called Taylor a school leader and a hard worker with a great attitude.
"If he applies those principals to his football career, he'll be very successful," Swanson added. "He's just a very good student and an all-around good person. We wish him the best of luck."
Taylor said he is considering psychology as a major.