FOOTBALL: Annual Walker County Civil War on tap for tonight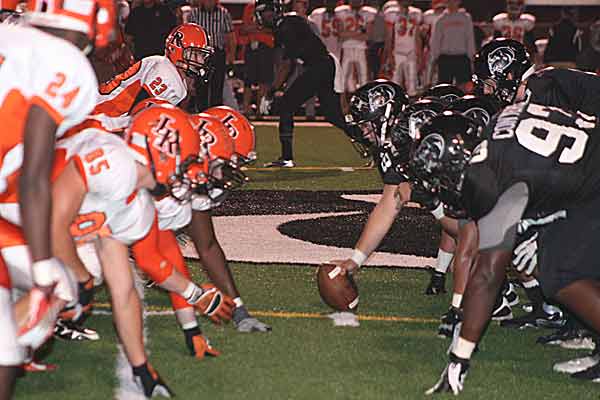 Jack King Stadium will be the stage for the 2013 version of the Walker County Civil War tonight as the Ridgeland Panthers travel south on Highway 27 to face off against the LaFayette Ramblers. Kick-off is set for 7:30 p.m.
For the first time in a long time, both teams will come into matchup sporting sub-.500 records, but there is still plenty on the line for each.
For Ridgeland (2-5, 1-2), they control their own destiny as far as the state playoffs go. Victories over LaFayette tonight and over Heritage next week should assure the Panthers of a spot in the Region 7-AAAA playoffs on Nov. 8 and a chance to get into the 32-team Class AAAA field.
"We're in a position where we've kind of got the ball in our court as far as the playoffs go," Ridgeland head coach Mark Mariakis said. "If we can win these next two games, then that 10th game will mean something. Getting to the state playoffs still remains our goal."
For LaFayette (0-7, 0-3) tonight is a chance to get not only the first win of the season and the first win in head coach Chad Fisher's tenure at LaFayette, but a chance to pick up a signature win and snap a seven-year run of dominance by their neighbors to the north.
"It should be interesting and ought to be fun," Fisher explained. "It should be a great atmosphere like it is anytime two county teams get together. I'm interested to see how we respond. Ridgeland has a pretty rich history in a short amount of time. Our practices have been a little more intense and the kids seem a little more focused this week. Things seem to a little more hyped up than normal."
The game will also be a clash of differing offensive styles.
Ridgeland has over 1,000 yards on the ground this season, anchored by a trio of backs. Senior Noah Cooper (338 yards) leads the way with six rushing touchdowns while battling his way through several injuries this season. Junior speedster Calvin Davenport has 445 yards and five touchdowns. He also has three 100-yard games, including two in a row, while sophomore Caderius Word (360 yards, 3 TDs) has been the workhorse the last two weeks with 57 carries for 273 yards and three scores.
"They are a proven ground team," Fisher said. "They'll start by stretching you on the outside and then come back to pound the ball inside, so we have to stop up those gaps and they and force them into a position to have to throw the ball. Mark is doing a great job up there. Looking at them on film, it looks like they are getting healthy. It looks like a lot of their kids are back."
Freshman Ivy Boehm has started the last four games under center, having completed 5-of-19 passes for 79 yards. Chase Crawford will be a main target when the Panthers go to the air now that leading receiver Trey Stubbs (8 rec., 153 yards, 1 TD) is out for the season. Stubbs suffered a leg injury against Dalton three weeks ago.
LaFayette will prefer to move the ball through the air. Senior quarterback Lance Estus has thrown for 910 yards this season (88-of-157) with six touchdowns against six interceptions, while junior back-up Evan Head has shown he is capable of moving the offense down the field with his arm and legs.
Of the top 10 wide receivers in Walker County, seven wear orange and black. Senior Hunter Clark (18 rec., 255 yards, 1 TD), senior Clayton Underwood (31 rec., 233 yards, 2 TDs), and senior Cameron Marsh (12 rec., 189 yards, 1 TD) are all capable of big plays, while the receiving corps gets additional depth from junior Kolbe Mosley (14 rec., 99 yards, 1 TD), senior Dylan Queen (5 rec., 58 yards, 1 TD), junior Ethan Tripp (5 rec., 55 yards), and senior tight end Taylor Parris (5 rec., 37 yards).
However, the Ramblers will run the ball to keep defenses honest. Mosley paces the team with 395 yards and two touchdowns on 75 carries. Estus is also a threat to run, while freshman KaDarrin Ramsey (16 rushes, 101 yards) has seen his workload increase in the last two games.
"We haven't done very well against the pass this season and they are very pass-oriented, so we've worked on that a lot this week," Mariakis said. "They like to get athletes in space and they've got some weapons. Although their record doesn't show it, they've played well, and we'll get their best effort, I can guarantee that.
"They are hungry for a win like everyone else. Coach Fisher has done a good job keeping those kids riled up and working hard. It will be a typical, hard-fought Ridgeland-LaFayette battle."
Ridgeland hasn't lost to LaFayette since dropping three games in a row between 2001-2003, and claimed a 48-0 victory last season on their way to the state championship game. Ironically enough, Panthers' assistant Eric Edwards was the head coach at LaFayette the last time the Ramblers won in the series.
Tonight will be the 21st all-time meeting between the teams. They have met every year since Ridgeland opened, save for a pair of two-year gaps (1998-1999 and 2004-2005) when the teams were in separate classifications and region schedules did not allow for the game to be played.