CROSS COUNTRY: Burch hopes to inspire his students, athletes with Ironman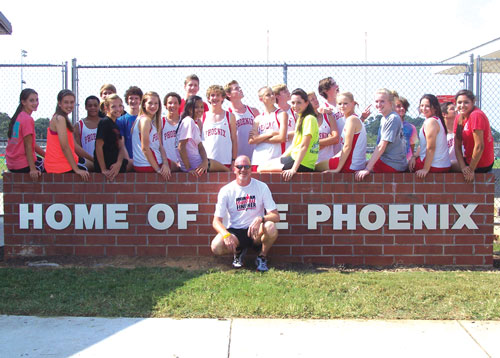 Most people that complete any type of strenuous athletic event such as a triathlon or a marathon come away feeling a good bit of pride for themselves.
But Butch Burch would tell you himself, it's not about him. It's about inspiring others — mainly, his students and athletes.
Burch, a construction teacher, head cross country coach and FCA advisor at Sonoraville High, said that was his main goal by taking on the challenge of competing in, and finishing, an Ironman Triathlon. His dream of finishing the grueling race which included a 2.4-mile swim, a 112-mile bike ride and a 26.2 mile run came to fruition on Aug. 25 in Louisville, Kent.
Burch said his whole journey to achieve the goal was dedicated to his students.
"I've been teaching for eight years now, and I've noticed that a lot of these kids have given up on their dreams," said Burch, who began teaching after working in construction for several years. "I want to be a one of those teachers and coaches that leads by example rather than leading by what I say.
"This challenge came up, and I wanted to use it to show the kids by example how to set goals and achieve a dream."
Students and supporters were able to track Burch's progress and journey to the Ironman Triathlon through a Facebook page called 'Teacher to Ironman.' The page followed his training through messages, pictures and videos.
Those same supporters even had the opportunity to follow Burch during his race and even watch him finish in Louisville through the Ironman web site.
Burch, who is in his first season as cross country coach, said since he's been back he's been approached by many people that have found inspiration through his achievements.
"I never realized so many people were going to watch it," said Burch. "I've had kids and adults come up to me and tell me that if I could do that, then they could do things that they've always wanted to do."
Burch competes as part of FCA Endurance, which is open to join for all adult Christian endurance athletes whether they bike, run, swim, walk, ski or paddle. The organization's main purpose is to "unite those who are competing for Christ and equip them for ministry within the endurance community" according to their web site.
"I want to honor and glorify God through everything I do," said Burch.
The road to this achievement really started six years ago when Burch said he started competing and training for health reasons.
He said being the person he was, he couldn't just do the training without a competition in mind.
"I knew I needed to get more active if I was going to see older age," said Burch, who is 49 years old now. "And I couldn't just be running. Being so competitive, I had to be training for something.
"The training for this Ironman has really been going for about five years. It's not something you just get ready for in a few months."
Burch said his training involved doing different things on different days. Some days he would run, some days he would swim and some days he would ride. He said he would get an off day about every three weeks.
As far as when he got to the Ironman event last month, Burch said it didn't disappoint as far as the surroundings and the challenge of the race itself.
"The atmosphere is always good when you are involved with anything with the Ironman name on it," said Burch. "All Ironman races are tough or it wouldn't be called Ironman. It's a really long day and you go through a lot of mental and physical challenges to get to the finish line."
Along with inspiring his students, he said hopefully other teachers and parents will follow his lead to become heros for the kids around them. He said he wants to lead by example for his teenage daughter.
"I think my generation has quit on these kids for the most part, and since they don't have touchable heros in their lives, they see these professional athletes and celebrities as their heros," said Burch. "We should want to make ourselves their heros and give them someone to look up to.
"Hopefully, my daughter is very proud of me, and I've become her hero."