College Signing: Gordon Central's Mills signs with Chattanooga State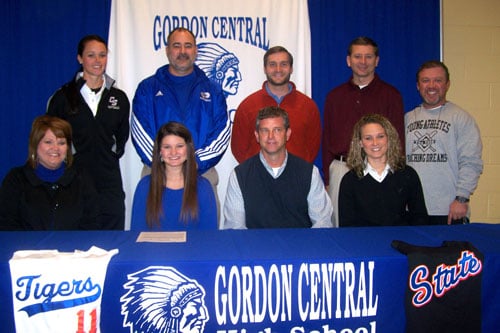 Gordon Central's Maci Mills (seated, second from left) signed a scholarship to play softball at Chattanooga State on Wednesday.
Mills said of the signing: "I've worked hard to do this, and it's exciting now that it's finally here. After I tore my ACL, I didn't know if I would get a chance to play in college. I'm really lucky to have this opportunity. When I first visited Chattanooga State, I knew it was where I wanted to be."
Also attending the signing were mother Pam Mills (front row, from left), father Terry Mills, sister Monica Mills, Chattanooga State head coach Blythe Golden (back row, from left), Gordon Central head coach Brian Little, Gordon Central assistant coach Chris Stephens, travel ball coach Mike Fuller and travel ball coach Kip Connally.