College Signing: Gordon Central's Brookshire signs with Cumberlands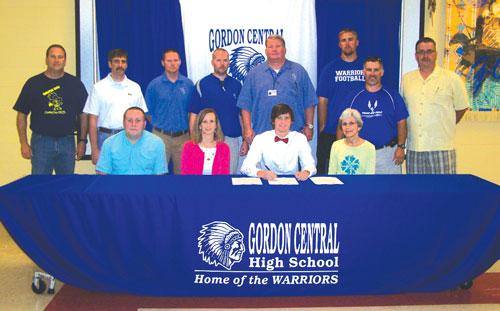 Gordon Central High senior Bryan Brookshire (seated, second from right)) signed a football scholarship on Wednesday with the University of the Cumberlands (Williamsburg, Kent.).
Brookshire said of the signing: "It's really a blessing and a great opportunity to further my education and my football career. I went up there on a visit and really liked the players and the coaches. I really felt comfortable there."
Brookshire will join Gordon Central teammate LaRons Winston and Sonoraville's Jackson Murray after both also signed with Cumberlands over the last few months.
Also attending the signing were: Will Harper (seated, from left), mother Charisse Brookshire, grandmother Phyllis Futch, middle school basketball and football coach Joe Naymick (standing, from left), uncle Matt Futch, assistant football coach Jon Albright, Athletic Director Scott Cullifer, Principal Scott McLanahan, assistant coach Barry Hall, assistant coach John Rainwater and head football coach David Humphreys.