Class AA Baseball Semifinals: Westminster downs Pepperell in Game 1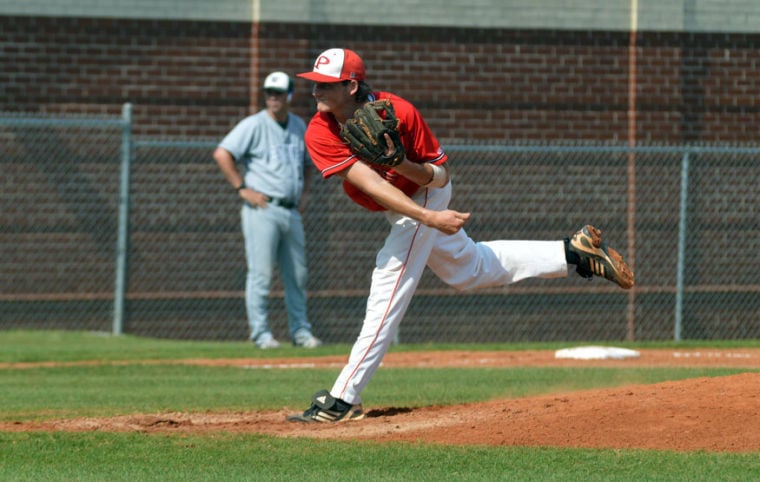 All year long, Pepperell's pitchers have come up with key performances.
On Monday, starter Tyler Smith pitched a solid game allowing only one run to score, but Westminster's starter, Hays Meyer, did him one better throwing a no-hitter as the Wildcats topped the Dragons in game one of their Class AA semifinal series 1-0.
Meyer threw seven solid innings of no-hit ball, allowing only two base runners and striking out seven Pepperell batters, helping Westminster to the 1-0 win and moving the Wildcats within a game of playing for the Class AA State Title.
"He (Meyer) was obviously especially tough today. We just tried to get on his back and ride him, and he did a great job against some good hitters," Westminster coach Russell Wrenn said. "He did a good job of conserving pitches early by being in the strike zone. With it being as hot as it was I think that paid off late in the game, and he was able to finish pretty strong."
Although Meyer did finish with a no-hitter, the Dragons had a couple of scoring opportunities in the game.
Pepperell seemed to have something going in the bottom of the first inning after Zack Williams drew a one-out walk. Meyer made sure Williams wouldn't score, striking out the next two Dragons. Pepperell wouldn't have another baserunner until the sixth inning when Seth Addison reached base after being hit by a pitch.
Addison moved to second base when Bradley Adams was out at first. Zack Williams had a chance with two outs to possibly bring in the tying run but his line drive stayed up long enough for the Westminster shortstop to stab it, ending the inning and the Dragons' final scoring threat.
"It's pretty obvious our approach at the plate today was not what it needed to be. We swung at a lot of first-pitch curveballs, and that's not us. We don't need to do that," Pepperell coach Wright Edge said. "We needed to make their pitcher throw the ball a lot more, track the ball a little better and hit the ball."
The Wildcats mounted a big scoring threat in the second inning but Pepperell second baseman Bryce Adams gunned down a Westminster runner at home on a solid tag by Adams, thwarting a double-steal attempt. Smith struck out the next two batters getting out of the inning without any damage.
Westminster's offense came through in the fourth inning however, as junior Nelson Douglas led off the inning with an infield single and moved to second base when Connor Stutts hit into a fielders choice.
Smith got the next batter to fly out to centerfield, but Westminster junior rightfielder McCalin Bradley ripped a two-out single to centerfield, scoring Douglas and giving the Wildcats the only run they would need.
"We got the big single up the middle from McClain Bradley our rightfielder with the runner on second to plate one and threatened a couple of other times. Even though we didn't score any more, we did run his (Smith) pitch count up," Wrenn said. "You've got to give them (Pepperell) credit because they made the plays, and their pitcher got through it giving up hardly anything."
Meyer earned the win for the Wildcats going seven innings, allowing no runs and striking out seven Pepperell batters. Smith took the loss for the Dragons. He pitched seven innings, giving up eight hits, allowing one run and striking out four batters.
Bradley led the Wildcats' hitters, going 2-for -3 with one RBI. Jake Forte and Douglas also recorded two hits each, and Douglas scored the only run of the game. Because of the amount of rain that fell on the Rome area Sunday, Monday's planned doubleheader became a single game, and the teams will resume the series today at 1 p.m. at Pepperell.
The Dragons have faced a must-win situation once before this season. In the opening round of the Class AA playoffs, Pepperell dropped the first game to Greater Atlanta Christian before rallying to win the next two games and win the series.
"I told the guys we've down this road before. This year against GAC and last year in the region playoff against LFO. So we've been here before," Edge said. "They know it's their approach. They've got to get out of class and do the things they should do. These guys aren't ready for the season to end."
If Pepperell wins the game at 1 p.m., there will be a third game played immediately following it. The winner of the series advances to the Class AA State Finals slated to be played this weekend. The winner will face the winner of the Benedictine/Lovett semifinal series which is set to start Tuesday at noon at Benedictine.