CHEERLEADING: Cedartown wins first place at Kennesaw Mountain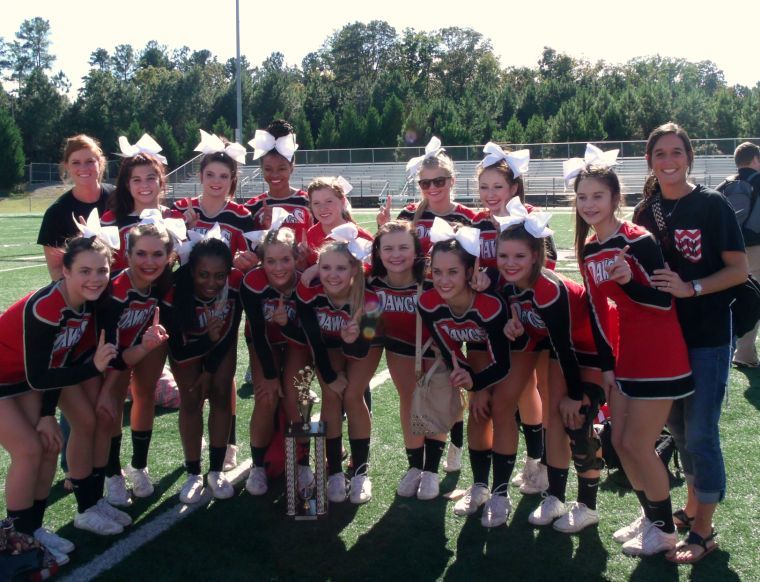 The Cedartown High School competition cheerleading squad rebounded in a big way this past Saturday.
After placing a disappointing fifth at the LaFayette competition on Oct. 5, the Lady Bulldogs bounced back to win first place at the Kennesaw Mountain High School competition this past Saturday.
"We were able to beat out our rivals Dalton as well as River Ridge and Southeast Whitfield, which are region opponents," head coach Brigitte Tillery said.
Cedartown had received a 30 point deduction for illegal hair bows at the LaFayette competition, knocking them from second place to fifth. However, after Tillery spoke with the state cheer coordinator, it was deemed that Cedartown's hair bows were legal. Tillery said the cheerleaders have still decided to wear different bows moving forward.
"The squad makes a goal at the beginning of the season to improve our raw score, which is the score without safety or illegal violations, and after four competitions that is exactly what this squad has done," Tillery said.
Assistant coach Kaley Hatch had positive things to say about the Lady Bulldogs outing this past Saturday.
"The squad performed their best routine of the season at Kennesaw Mountain," Hatch said. "I was so proud of the girls effort and their performance."
Cedartown's next competition will be Oct. 25 at McEachern High School.