Calhoun Times Prep Spotlight: Sonoraville's Vaughn leads in various ways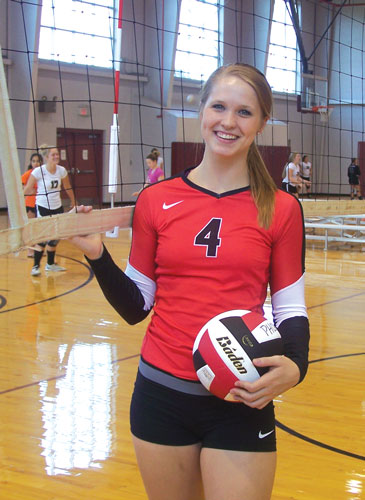 A couple years ago, Kristi Vaughn was mostly known as the younger sister of Sonoraville standout athlete Kailey Vaughn.
But over the last three years she's made her own name — and then some.
Kristi Vaughn just started her senior year at Sonoraville, and she's ready to make it her best one yet. And that includes making some great memories on both the volleyball and basketball court.
Vaughn is one of two seniors on this year's version of the Lady Phoenix volleyball team and is one of the driving forces behind their success not only with her play, but also with her coach-like leadership. It certainly helps that she's learned a good bit about coaching and athleticism from her father, Trace, who is the head volleyball coach at Sonoraville and a former college basketball player at Mercer.
She also attributes a lot of her success to her sister, who she said basically got her started in volleyball.
Before the season even started, Kristi was earning individual honors in volleyball as she was named to the Junior Watch List and as a nominee for the "AthLeader" Award by the Junior Volleyball Association.
But what Kristi does on the court is just half the story. She's also a 4.0 GPA student at Sonoraville as well as being the senior class vice-president and the FCA co-president.
Recently the Calhoun Times caught up with Kristi Vaughn to discuss her feelings on how good this year's Lady Phoenix volleyball team can be, earning individual honors, being the daughter of the head coach, the opportunity to play a few years with her sister, her memories as an athlete at Sonoraville, her plans for her senior year and beyond, and several other subjects.
Here's what she had to say:
CT: As volleyball season is just getting going, how much confidence do you have in this team and how special can this season be?
Vaughn: Starting off in the summer, we've worked really hard to get to where we are now. We're continuing to work hard. I think as we've drawn closer to God, my confidence in the team and my confidence in God has grown. I think we can go really far with Him on our side. He is marvelous and works in wondrous ways. I think he can get us to where we want to be which is a state championship.
CT: You've earned several individual honors over the last few months. What does that mean to you and your hard work?
Vaughn: I give all my glory to God. I work my tail off for everything that I've earned. I really appreciate getting those honors, but I do work very hard for everything. It's not just given to me.
CT: What's it like being the daughter of the coach? Does it make it harder or easier for you?
Vaughn: Some people may think you get special privileges, but I feel like my dad's harder on me than he is on anyone else. After practice, I get his wrath, and I always get "you should've done this, you should've done that." He's a great coach, though, and I think everyone loves him.
CT: With playing two sports and doing several other extracurricular activities, how tough is it to keep up with your academics?
Vaughn: Every night after practice, you go home and study for about an hour or an hour and a half, go to sleep, wake up, school and practice again. It's tough, but I think I'd be bored if I didn't do anything. I think God gave me the athletic ability to play sports so I should use that ability to bring others to Him.
CT: What's your favorite memory as an athlete at Sonoraville?
Vaughn: My sister's senior year we were in a very close match with Darlington, and I remember she wanted to beat them so bad. I loved playing with my sister, and we ended up beating them by two in each set and gave her the game ball. She was just so ecstatic. I remember that very well because she was so happy.
CT: How cool was it to get to play with your sister a couple years ago?
Vaughn: My sister was my role model, and she continues to be now. I just thank God for her and being able to play with her. She taught me everything I could learn along with my dad. She's the one who got me started with volleyball and loving volleyball because I was coming in as a softball player. But she asked me to come play volleyball with her.
CT: How important are your final volleyball and basketball seasons at Sonoraville? How much do you want to go out on a positive note in both?
Vaughn: I do want to have the underclassmen look up to me, and I do want to give a good example for them. So I have to work hard and give it my best effort even though it's my senior year and I'm not going to get another chance. I have to give it my all because it's the last opportunity I'll have here.
CT: Who is an athlete you admire or try to model yourself after?
Vaughn: I do look up to my dad. He was a Division-I basketball player, and I know he put in a lot of effort. I try to be like him. I know I'm probably not going to go Division-I, but I try to do the best I can and hopefully makes him proud.
CT: What are your plans for after high school?
Vaughn: I want to play volleyball, and I hope to go in as a nursing student to get my RN as well as emergency medical services as a secondary. And then I want to go onto get my masters in nursing. I'm looking at Georgia Regents University and Armstrong Atlantic.
Kristi's Favorites:
Food: Italian
Fast Food: Steak-n-Shake
Movie: My Sister's Keeper
TV Show: The Bachelorette
Band/Artist: Casting Crowns
College: Florida St.
Nickname: Bird
Male Celebrity: Ben Affleck