Calhoun Times Prep Spotlight: Sonoraville's Bridges overcame knee injury to star in two sports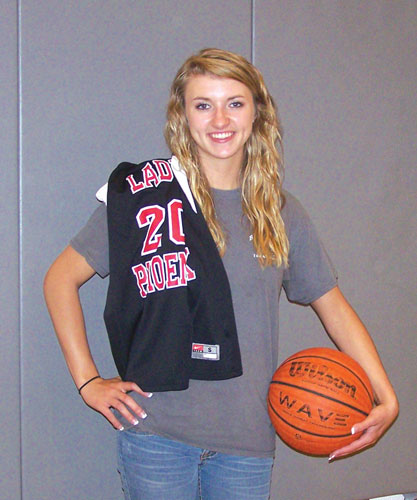 Knee injuries are an occurrence no athlete ever wants to go through.
The surgery and rehab for a major knee injury can take anywhere from 6-12 months.
Sonoraville's Alisha Bridges knows the process all too well, and she can now look back on out with pride as her knee injury was just an obstacle she overcame.
The senior, who suffered a torn ACL and MCL during the summer between here sophomore and junior year, fought through the adversity and returned to the court at the end of her junior season. She then backed that up this past fall and winter in which she starred in both softball and basketball for the Lady Phoenix.
She was a starter on Coach Stephanie Caudell's basketball team this past winter that set school records for wins in a season, longest winning streak and also won their first-ever region title and achieved their first state tournament win in their first appearance.
Bridges will graduate from Sonoraville in a few weeks and hopes to continue her basketball career.
Recently the Calhoun Times caught up with Bridges to discus her final basketball and softball seasons, overcoming her knee injury, her memories as an athlete at Sonoraville, balancing school and sports and her future plans, among other subjects.
Here's what she had to say:
CT: Talk about your final basketball season at Sonoraville that wrapped up a few months ago. How great was it to be a part of that team and for it to be such a special season?
Bridges: It means a lot because we've been working at it with Coach Caudell since freshman year. We've been so close a few times (in other seasons), but we would lose one or two games. For this to be the best season yet for Sonoraville, I was happy to be a part of it. And for us to actually be able to come back to school and see that banner, especially for the seniors, and know we were a part of it will be awesome.
CT: Take us back to your last softball season last fall. The team fell a little short of the goal of a state tournament berth, but do you still consider it a success? What do you take away from that season?
Bridges: I still look at it as a success. When I tore my ACL before my junior year, everyone was kind of falling apart. And when I came back, we started pulling back together. With Coach (Carissa) Roustan leaving it was hard, but we still managed to get through it.
CT: How tough was it to suffer the knee injury? When did it happen and how hard was it trying to come back?
Bridges: It happened in summer camp at Shorter going into my junior year. I went up for a lay-up and hit the girl's foot that was playing defense, and when I came back down it just popped out. I just started screaming. When I was laying in the room after the surgery, I was just thinking 'how am I going to get over it? Am I going to be able to play again?' There were a lot of questions. It wasn't just hard physically. It tears you apart mentally, too. Going through my physical therapy at the beginning was the hardest part because I had to learn how to walk and run again. It was like being a toddler, but when I got back I was as happy as I could be and proud of myself.
CT: How gratifying was it to get through something like that and how did it feel the first time you got to play after the injury?
Bridges: It was the best feeling. Just to hear the ball go through the net, the sound of the shoes on the court, the people in the stands cheering your name was…  it was great. It was the best feeling in the world just to touch a basketball again.
CT: What's your best memory as an athlete at Sonoraville?
Bridges: I guess the goofy times I've had with Payton (Smith) are my favorite. We had a competition one time shooting half-court shots, and I made one backwards so I beat her. I guess just the fun times with my teammates is what I'll remember.
CT: How tough is it to juggle school and sports?
Bridges: It's tough, but because you're an athlete, the coaches keep a check on your grades. And that was good because they always checked on me all the time. I knew I had to get my grades up if they told me to because being a student comes before being an athlete. The hardest part was when you had late practices and getting up in the morning.
CT: Who is an athlete you admire or try to model yourself after?
Bridges: I don't really watch a lot of college basketball, but for here, it was Payton and Jennilee (Gentry) in school and basketball. I always wanted to be able to defend Payton in basketball. That was my goal to be the best defender.
CT: What are your plans for after high school?
Bridges: I want to go to Georgia Northwestern and get my associates degree and then transfer to Kennesaw State. I'm hoping to be a physical therapist or dental hygienist. I want to play basketball at GNTC if I can.
Alisha's Favorites:
Food: Spaghetti
Fast Food: Taco Bell
Movie: Hancock
TV Show: Spongebob Squarepants
Band/Artist: Lady Antebellum
College: UGA
Nickname: Lisha
Male Celebrity: Channing Tatum