Calhoun Times Prep Spotlight: Prather makes the most of career at Gordon Central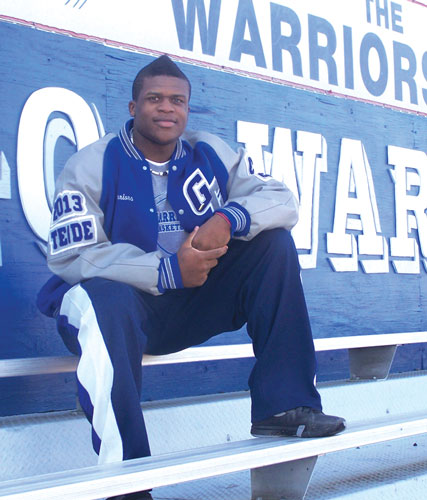 Over the last four years, Gordon Central athletics has been taken to another level by the current senior class.
And one of the biggest parts of that class, literally and figuratively, is DJ Prather.
Prather, who stands 6-feet-4 and weighs 230 pounds, has been a big part of the Warriors' recent success in football, basketball and track.
Most recently, he helped the Warriors basketball team to a big season as they advanced to the second round of the Class AAA State Tournament, with Prather anchoring the paint.
This past fall as a tight end and defensive end, Prather made plays on both sides of the ball as a major contributor in the Warriors' 8-3 season and their second straight trip to the state playoffs. He has signed a scholarship to play football at Tennessee-Chattanooga starting next fall.
Now, Prather is preparing for his final track season, hoping to follow up a solid junior campaign in which he qualified for three events at the State Meet and finished fourth overall in the discus.
Recently, the Calhoun Times caught up with Prather to talk about the recent basketball season, his last football season as a Warrior this past fall, his expectations for track, playing with his older brother Dre a couple years ago, his memories at Gordon Central and a few other subjects.
Here's what he had to say:
CT: Talk about the basketball season that just wrapped up recently. Did the season meet your expectations?
Prather: We had a really good season I think. It could've been better, but we were plagued by injuries at the beginning. After we all got back, we really started clicking and winning games like we knew we could to begin with. We got to the Sweet 16. We wanted to get further than that, but just getting there is an accomplishment for our team, our community and our school. We played well, we all had good chemistry and we played basketball like our coach wanted us to.
CT: Take us back to this past fall and football season. How good of a season was it and what was it like going to the playoffs again?
Prather: We played really well, especially here at home. We lost a game or two that we shouldn't have, but we bounced back and made it to the playoffs again. And the playoff game (against Morgan County), we could've won that but, like basketball, injuries came up on us. Myself and Tyshaun (Clemmons) got hurt, and everyone tends to follow us. Not to say that we're the team. When we went down, they never stopped battling, and I applaud my team for the way the kept battling even without us. It was good getting back to the playoffs for coach (Chad) Fisher, our team, our community and our school.
CT: Now that it's time for spring sports, what are your expectations for track?
Prather: This year I want to get back to state in all three events I went for last year, and I think I can. And in the discus, I feel like I can win a state championship because last year the only people in front of me were three seniors. I'm going to keep working hard every day to improve my technique so I can reach that goal. We're going to keep working, and I believe we can win a region championship this year and go out on top.
CT: What was it like getting to play with your brother Dre for a couple years at Gordon Central?
Prather: We competed each day because we're competitors. It was fun playing with him because every time we scored (in football) we would go straight to each other. I especially loved playing with him in basketball because we've been playing basketball together all our lives. It was really good playing with him then.
CT: How much of an impact has your senior class had on Gordon Central athletics and how close of a group is this senior class?
Prather: We're a real close group. Ever since we were in middle school, we've always talked about coming up here and winning games, setting new records and just becoming a great class. In girls and boys, we both did that I believe. We've always strived to be better at everything we did. The girls worked hard. We worked hard. And we've set a high standard at Gordon Central now. If you work hard, you're going to have success. I hope we've set an example for the younger classes so they can work hard and keep this thing going into a great tradition.
CT: Which one of your coaches has had the biggest influence on you? Why?
Prather: It would probably be my basketball coach (Rodney) English. Even though he hasn't been here all four years with me like my other coaches have, I truly believe he's taught me the most. He didn't just teach me basketball. He taught me life and how to handle situations, and even if you don't want to do something, you still have to do it. He taught me things other than just playing sports, but how to be a man.
CT: Who is an athlete you admire or try to model yourself after?
Prather: Probably LeBron James. I know I'm not going to play basketball, but just his work ethic and how he involves everyone he plays with. He's a great team player.
CT: How excited are you to continue your football career at UTC? What made you want to go there?
Prather: I'm really excited because not only am I playing a sport that I love, but I'm also getting my education paid for. I chose them because they were the first school that offered me. I had other schools come in and offer me, and I went on visits but after I took my official visit to UTC, it's like I knew I was going to go there. I had a good relationship with the coaches and the players from my visit, and Chattanooga felt like home. It's not that far away, but it's far enough where I can get away and live my life but still come back to see my friends and family.
DJ's Favorites:
Food: Pizza
Fast Food: Zaxby's
Movie: Coach Carter
TV Show: The Wayans Bros.
Band/Artist: Lil Wayne
College: UTC
Female Celebrity: Beyonce