Calhoun Times Prep Spotlight: Gordon Central's Pierce combines skills for success in athletics, academics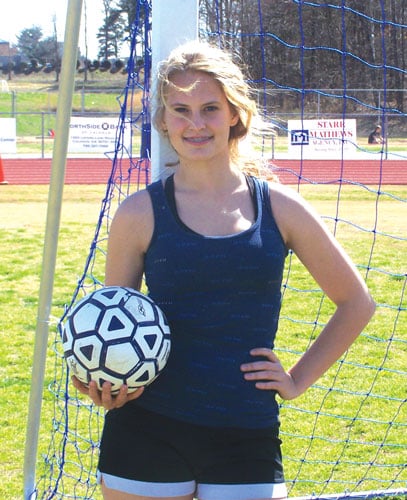 Annah Pierce has been running or kicking in some fashion for her entire high school athletic career.
But the Gordon Central senior, who plays soccer, runs track and cross country and even kicked for the football team last fall, hasn't just settled for being a well-rounded athlete, she's also a well-rounded student.
And on top of that, she was the school's Homecoming Queen last fall.
Pierce has stayed busy as a student and athlete in her four years at Gordon Central to say the least.
Recently, she has helped lead the soccer team to four straight wins after the team started the season with four losses. Last Thursday in a 4-0 win over North Murray, Pierce scored two goals.
Her soccer coach Grant Anderson described Pierce "as dynamic person who is very passionate about soccer." He added that she's the type of player that's always trying to make herself and teammates better, and no matter what she does on or off the field, she tries to do it to the best of her ability.
Recently the Calhoun Times caught up with Pierce to discuss the current soccer season, her experience as a kicker on the football team last fall, balancing school and sports, her memories as an athlete at Gordon Central, her favorite things to do when she's not at school or playing sports, her future plans and several other subjects.
Here's what she had to say:
CT: How's soccer season going so far? What are your expectations for the rest of the season?
Pierce: We had a few losses at the beginning of the season, but I think all of that was because we had a lot of new girls. It wasn't their fault; it was the fact that we weren't used to playing with one another. These past few games it's obvious that the team's coming together and starting to win a lot of games. I'm hoping that the rest of the season will be looking bright. We just beat Adairsville, and they're a really tough opponent. It just showed us that we can beat any team in this region at any time. It's about who wants it more.
CT: Talk about your experience as a kicker on the football team last fall. What was it like? Did the guys accept you?
Pierce: It was good and bad. The guys accepted it, but obviously when you have that much attention it's a lot of pressure. It's not just being a girl football player. Any football player, you're going to have people looking up to you. There were times when I didn't realize people were looking up to me, and I would slip up. It's just about getting back up on your feet, and trying to be that role model for someone else because you are whether you accept it or not.
CT: Your playing golf for the first time this spring. What are your expectations for yourself and for the team this season?
Pierce: We have a lot of work to do leading up to the region tournament. We're playing in a lot of tournaments, and it's my first time playing golf. I'm in the lineup right now, but who knows what will happen. Hopefully, we'll win region and go to state, but we've got a lot of work to do before that.
CT: How difficult is it to balance school and multiple sports?
Pierce: You would think it would be tough, but my teachers are really supportive. It gets stressful at times, but there's no way I couldn't do it. I really love to compete. You would think that playing several sports would make your grades slip, but that's what's made me strive to be better.
CT: What's been your best memory as an athlete at Gordon Central?
Pierce: Being a kicker was awesome. Of course I hated practice, but during the game it's awesome. And getting homecoming queen while being the kicker was great too.
CT: You're a part of a senior class that has had a lot of success during their time at Gordon Central. How much pride do you take in being a part of this senior class?
Pierce: I love our senior class. I love what we've done, and it's not just sports either. That's what most people don't realize. It's the Academic Bowl Team, it's the Chorus Department, it's the Theatre, it's the Literary Team. We've gone so far, and I'm just really proud of all of them.
CT: Which one of your coaches has had the biggest influence on you? Why?
Pierce: I'll say the Rainwaters. (Shannon) Rainwater was my cross country coach, and (John) Rainwater is my track coach. They've been there for me beyond just school and sports. And our trainer, Amy Hallman, too. The main thing is not anything they've really told me, it's just when you have someone there who is supporting you and wants you to do your best, it makes you so determined not to let them down
CT: What are your favorite things to do when you're not in school or playing sports?
Pierce: I'm really adventurous. I don't like being in the house. I like going horseback riding or four-wheeling, stuff like that.
CT: Who is an athlete you look up to or try to model yourself after?
Pierce: Tim Tebow because he's a Christian. Not only that, but he's genuinely a good person. He takes so much criticism and still stands up to it.
CT: What are your plans for after high school? Do you want to play sports in college?
Pierce: It depends on what college I go to, but I know I want to play soccer. I'm also thinking about swimming in college too because I used to swim for the Blue Barracudas (in Calhoun). I want to go into either communications or sports medicine. I'm thinking about double majoring.
Annah's Favorites:
Food: Chocolate
Fast Food: Chick-Fil-A
Movie: Soul Surfer
TV Show: The Game
Band/Artist: LeCrae
Nickname: Uno
Male Celebrity: David Beckham