Calhoun Times Prep Spotlight: Edgar spreads out athletic ability during prep career at Sonoraville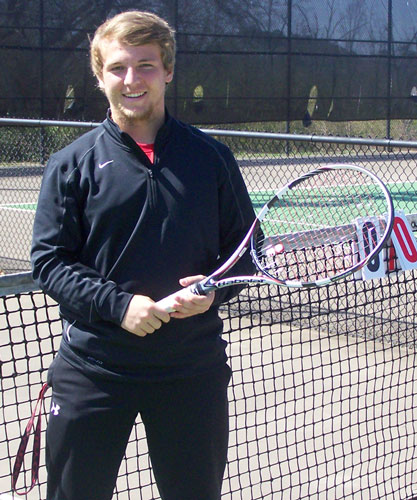 Matt Edgar has had a little taste of everything in his four years at Sonoraville.
The senior has played four different sports in his time as a Phoenix, including soccer, wrestling, tennis and football.
Most recently, he's held down the No. 1 singles spot for Coach Billie Abney's Sonoraville tennis team which has rebounded from a tough start to the season and now sit at 7-4 and possibly in line for a playoff spot.
Over the past four years on the football field, Edgar has been Sonoraville's kicker, a position not many people have the patience and fortitude to endure. But he has relished the role and has performed well enough to earn the opportunity to continue kicking in college for Lindsey Wilson College (Columbia, Kent.), who he signed with in February. He also played some receiver this past fall for the Phoenix.
Edgar was also a standout wrestler and soccer player during his freshman and sophomore seasons before giving those up to focus on football and tennis.
Recently the Calhoun Times caught up with Edgar to talk about how the current tennis season is going, the ups and downs of being a kicker, the role playing sports has had in his life, his memories as an athlete at Sonoraville and being able to play tennis with his sister Madison on the tennis team, among other subjects.
Here's what he had to say:
CT: How's tennis season going so far? What are your expectations for the rest of the season?
Edgar: The team is really strong and has a lot of depth. We are really senior-heavy. We have a really good team, and we get along really well. We have a lot of team chemistry and are having the best year the school has ever had. I'm pretty sure we'll finish in the top three in the region and lock up a spot in state.
CT: What's it like being a kicker? How tough is that position for a football team?
Edgar: It's one of those things where people think it's easy, but it's really not. There's a lot of pressure on you. You've got to have a short memory to be a kicker. My kicking coach always tells me you don't judge yourself on kicks you miss, it's how you kick after you miss.
CT: Your last football season at Sonoraville last fall didn't really go the way you or the team probably wanted it to go. How tough was that to face so many challenges and struggles in your final season?
Edgar: It was hard moving into a new offense your senior year, and we were plagued by injuries. We struggled and had a lack of depth, but I still had plenty of fun with my teammates and wish I could do it again.
CT: You've played a little bit of everything during your time at Sonoraville. Is sports something that's always been a part of your life?
Edgar: My life revolves around sports, and without them, I'd be lost. I'm competitive in everything I do no matter what it is so I just like having a wide variety and range of sports to do. I love them all equally.
CT: What's your best memory as an athlete at Sonoraville?
Edgar: My junior year, kicking the game-winning field goal against Chattooga in overtime was one of my favorites. I'll never forget that. I also had a game-winning goal with thirty seconds left my freshman year in soccer against Gilmer.
And breaking the school-record for receiving yards in a game against Adairsville last season too. I loved all of those.
CT: Which one of your coaches has had the biggest influence on you? Why?
Edgar: Marc Feuerbach has been my most inspirational coach. He's helped me perfect my kicking and has always been there for me. He's more than just a coach, he's also a mentor. I wouldn't be where I am today with Coach Feuerbach's help.
CT: How difficult is it balancing school and sports?
Edgar: It's definitely a struggle. You always have to make time for your schoolwork as well as athletics so it's always hard, but you find a way to do it. I've done it for four years, and I guess I'll find a way to do it next year at Lindsey Wilson too.
CT: What's it like getting to play on the tennis team along with your sister, Madison?
Edgar: She's hilarious, and she always makes it fun. She reminds me a lot of myself. She's loud and spontaneous and bubbly. It's been fun playing with her the last two years, and I'll miss it in college.
CT: How excited are you to continue your football career next year kicking for Lindsey Wilson?
Edgar: I can't wait to be up in Columbia in the fall. It's going to be fun. The coaches are really great up there. We're looking forward to having a great season and hopefully win the MidSouth Conference next year. They're doing a lot of great things up there, and I can't wait to be a part of the Blue Raider family.
Matt's Favorites:
Food: Hot Wings
Fast Food: Taco Bell
Movie: Remember the Titans
TV Show: Sportscenter
Band/Artist: John Mayer
College: Lindsey Wilson
Nickname: Matty Ice
Female Celebrity: Kate Upton