Calhoun Times Prep Spotlight: Calhoun's Palmer does a little bit of everything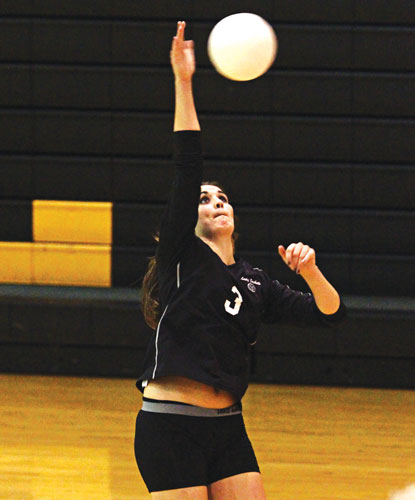 As far as well-rounded high school students at Calhoun High, Taylor Palmer has to be near or at the top of the list.
The senior does a little bit of everything at Calhoun. She's a standout on the Lady Jackets volleyball and basketball team, she is a majorette in the marching band and she is an honor student, just to name a few.
And not only does she take part in all those activities, Palmer excels at each and every one.
Most recently, she has helped the Lady Jackets basketball team to their second region title in three years and also a dominant win over Westminster in the first round of the state tournament. Taylor and her sister Molly, both standing at right over six feet tall, form one of the tallest and most skilled front lines in Class AA as Calhoun looks to make a deep run in the tourney.
This past summer, Taylor was a part of the Calhoun High majorettes squad that won a national championship, and she followed that up in the fall by leading the Lady Jackets volleyball team to their first ever region title and playoff win.
And while she was doing all that, she was also taking AP classes at Calhoun.
Recently, the Calhoun Times caught up with Palmer to talk about the current basketball season, being a part of winning programs as a majorette and volleyball player, playing alongside her sister, her memories as an athlete at Calhoun, balancing school and athletics and a few other subjects.
Here's what she had to say:
CT: Talk about the basketball season so far. How good do you think this team is and how far can you go?
Palmer: We have a lot of talent. We've got Sydnie (Parker) coming off the bench, and she's a good shooter. Molly and I have height; Carly (Curtis) is a good ball-handler; when Bree (Walraven's) on, she's on; Shanta (McDaniel) is good on defense. We have the potential to go very far this year as long as we don't get too nervous, and the pressure doesn't get to us too much.
CT: Take us back to volleyball season this past fall? What was it like to win a region title and get a playoff win?
Palmer: It was really good. It was really exciting to be a part of that team. It was the first time we won the region and gone into state as a No. 1 seed. It didn't end the way we wanted it to, but it was an accomplishment. The whole season was really fun. All the girls went together well, and we all got along. That made it a lot more fun.
CT: What's it been like to be a part of so much success in athletics over the last few years in high school?
Palmer: It's been a lot of fun. The success has made it be a better experience. I'll never forget it. With my senior class, we've got a lot of talent so it was good that I came along at this time because all four seniors on the basketball team are very athletic. Just in softball, the three of those (Shanta, Carly and Bree) did exceptionally well there. So it's been a lot of fun getting a lot of firsts for Calhoun. It helped make high school a better experience.
CT: What's it like playing with your sister? How much do you push each other to get better?
Palmer: It's a lot of fun playing with Molly because if we do something wrong, we can always get on each other and don't have to worry about getting mad. She pushes me because she's at an equal playing level so it's a good thing. It helps us be better especially when we play against good teams.
CT: What's been your favorite memory as an athlete at Calhoun?
Palmer: I would probably say beating Model in the region championship this year (in basketball). They've always been one of our biggest rivals with the Akin twins being in the same grade as us seniors. It's been one of our biggest goals to beat Model so beating them three times this year has been icing on the cake for our senior year.
CT: Which one of your coaches has had the biggest influence on you and what have they instilled in you?
Palmer: Coach (Jerry) Pruett because he's instilled in us to go hard, and no matter what obstacles are in our way, we can overcome them if we give our best and push hard. He builds us up and gives us the drive to beat any team no matter how good they are. He never let's us look down on any team even if they aren't as good as we are and that helps us to not take any win for granted."
CT: How tough is it to juggle multiple sports and school?
Palmer: It's a very difficult task. This year I enrolled in a bunch of AP classes so it's hard to keep everything all situated. It helps that the teachers are nice and consider everything you do. It keeps me busy. It has its negative sides, but it also has many positives. I'm glad that I play as many sports and do as many things as I have.
CT: What are your plans for after high school?
Palmer: Right now I'm in between deciding to go to UGA or Mercer. I've been accepted into both of them, and I'm just trying to weigh out the pros and cons of each school. If I get the opportunity to play a sport in college it would just depend on what school it as and what they offer academically and athletically. But as of right now, I don't think I'm looking to play a sport in college. I'm just trying to make that difficult decision of where I want to spend the next four years. I can't go wrong with either school. I've just got to figure out which one's best for me.
Taylor's Favorites:
Food: Pizza
Fast Food: Chick-fil-A
Movie: 50 First Dates
TV Show: Gossip Girl
Band/Artist: Ed Sheeran
College: UGA
Nickname: T.
Male Celebrity: Chris Hemsworth