BOYS SOCCER: Pizano inspires Rockmart team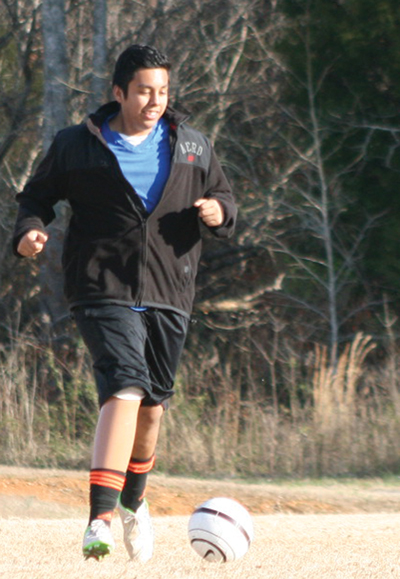 Rockmart High School's soccer team has a new coach this year as well as a very unconventional player.
David Pizano is a sophomore at Rockmart High School, whose favorite subject is science. He said that he has been playing soccer for the last four years, even though he has spent his entire life with a prosthetic leg.
"At the beginning playing soccer was a little bit difficult, but now it's like an everyday thing," Pizano said.
Pizano spoke of his difficulty with some of the practice drills and that sometimes his prosthetic leg can slow him down, but he continues to do his best. He has a good feeling about the Rockmart soccer team this year.
"I feel like we have a good team and we'll get more wins than we usually do," Pizano said.
Team captains Galen Ambrose and Jose Gutierrez are happy to have Pizano on their team.
"He is a good player, he communicates and he is great for the team," Ambrose said. "He brings people up; he helps people and tries his best."
"He is a good inspiration for everybody else," Gutierrez said. "Seeing him try his hardest helps other people try too."
When James Schroeder started coaching for Rockmart at the beginning of this year, he was surprised to hear about Pizano.
"I had never seen that before in soccer, so I had no idea what his abilities were," Schroeder said. "When we got out to practice on the first day, [Pizano] took a shot and I was like 'Woah! This kid can actually play!' I think that having him out there is great."
Before he began coaching for Rockmart, Schroeder spent several years coaching in Floyd County for Rome, Model and Armuchee high schools. He said after all of his experience, Pizano and the rest of the team have changed his method of coaching.
"There are certain drills and things that we do as a team that [Pizano] can't do," Schroeder said. "It made me hesitate and I had to change my philosophy about having everyone do the same thing and expect the same from everyone."
Schroder also mentioned he had a player who had had a heart transplant. He said that he now structures his practices so that everyone is doing something and able to play to the best of their abilities.
Both Schroeder and Pizano expressed hopeful expectations for the team this year. Schroeder said that he remembered coaching against Rockmart and that even if they were losing, they never stopped trying and they all just seemed happy to be playing.
"I have been really excited about coaching them," Schroeder said.
Pizano said that he isn't sure where he wants to go after graduation, but he wants to become an Emergency Room doctor. He also mentioned that he has plans to try out for the kicking position on the high school's football team.
Pizano, Schroeder and Rockmart High's soccer team will be back on the field Tuesday, visiting New Manchester for a non-region game at 7:30 p.m.