BOYS SOCCER: Calhoun coach Rice reflects on successful season in 2013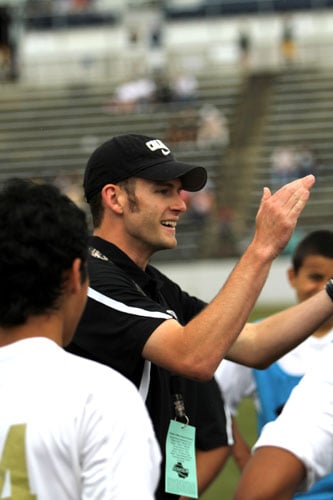 The Calhoun boys soccer team wrapped up their season last Saturday in the Class AA State Championship Game against Westminster in Carrollton.
And while the Jackets lost, 1-0, to fall just short of a state title, the loss took little away from what a special season it truly was for the team.
Calhoun finished with a 20-3 record and won the Region 7-AA title. They made it to the Class AA Final Four for just the second time in program history and appeared in the state finals for the first time ever.
The team outscored their opponents 109-7 for the season.
Recently, the Calhoun Times caught up head coach Matt Rice to talk about just how special the season was and his reflections on the players and their accomplishments this spring.
Here's what he had to say:
CT: Now that it's been a few days since the tough loss in the state championship game, have you been able to sit back and reflect on just how special this season was?
Rice: We had our banquet the other night, and that was the focus of it. We're still upset about the way it turned out, but at the same time, the focus of the banquet was just to commemorate the season, celebrate the hard work that everybody put in, and all the accomplishments they've had. I mean when all is said and done, our goal this season was a state championship, but unfortunately, we didn't get to that point. We did accomplish a lot of goals along the way, and we set a lot of new personal marks and records this season.
CT: Was there a specific point this year when you thought to yourself that this team could do something really special?
Rice: We knew we had a strong group, and we knew we had good senior leadership from the start. Most of the early part of the season we used a lot of different lineups. We put people in different places, and we were able to get out to early leads in games to be able to try different combinations. No matter what happened, though, we saw as the season went on the group stayed together, and it really made a difference just them pulling for each other. We had some injuries along the way. We had some people who had to sit out some games for different reasons, and it was always next man up. I think that's a characteristic that all championship teams have. I would probably say the turning point in the season was in April when we went through a stretch in about two and a half weeks, we played 10 games. It was just grueling during that stretch. We went over and beat a good Fort Payne team in Alabama on a Friday, and then that Saturday we lost to the eventual Alabama state champions, Collinsville, 1-0. Then we regrouped, got back on track finished out and won our region. When we did that, I could see everything from throughout the season just manifesting in different parts of other games. When we got to state tournament time and started practicing, our warm-up before our first state game against Wesleyan, I saw a look in the guys eyes that I've never seen. I saw crisp passing, I saw drive and determination, and I knew it was going to be a special year from that point on.
CT: How much did the team concept play a role in the success of this team?
Rice: It's been huge. That's really where we we're at. When we were talking about team goals, we shoot for the stars. We had very ambitious goals for this season. We didn't meet all of them, but we still aimed pretty high. It was always that way. Our captains set the tone for what was expected, and everyone fell in line in that sense. It's never been 'why is someone playing in that position' or 'why haven't I gotten more playing time?' It was always that we were going to put the best players against the team we're playing. We're going to make the best combination. Everyone saw that mindset. Some people played more in one game and didn't play as much in another one. It was always about sacrificing and doing what was best to beat the opponent that one day. That's the way we did everything. It was one practice, one half, one game at a time, and I think we really kept everything in sight and in focus that way.
CT: Do you think this year's team has cemented Calhoun's place as one of the elite soccer programs in Class AA?
Rice: I do think so. Calhoun has always been known for being good at soccer through all the previous teams. But I think this showed that we have a solid team, and we play a quality brand of soccer here. We're not just getting lucky or overachieving, but that this is a strong program. It will be up to our group next year to further cement that we're here and we're ready to compete for the state title every year.
CT: How good was this senior class? What have they meant to you personally and to the program over the last few years?
Rice: This is a special group. From the very beginning, I've known about most of these seniors from coaching against them when they were ninth and tenth graders. But to actually get in there and work with them (starting last year), I knew we had a quality group of seniors last year and even though we were losing a lot of good talent, I knew we had some people in different roles that could step in. We had some people that really committed themselves and came back bigger, faster and stronger than they were the year before. They really, really set the tone. It set up a model not only for the underclassmen to look at, but to know that those guys deserve to be on the field. If they wanted to play, that's where they needed to get to. Their efforts aren't just going to be felt this year but for years to come.
CT: You have several talented players returning next season. What are your expectations for them and for the team?
Rice: First, I want this senior class go on and go to college or the military and set up good lives for themselves. I want them to come back and support the next group up. One of the great things I saw at the championship game was that we had a big crowd of alumni that came out and supported the players there. I want to see that continue on. Going into next year, we are losing eight very good seniors, but we have a good senior class as well as a really large junior class next year. They will really step in and lead, and I think we will do well next year. It will be up to this group to see how well we will do. I think we can play with anybody. We just need to make sure we have the right mindset and focus. We need to do the right things in the offseason so that when it comes to these difficult times and the hard competition that we're ready to go.
CT: How confident are you that Calhoun can get over that hump and win a state title in soccer?
Rice: I think we can. It's something I've talked with the guys about. They work hard, and they believe. If you watch them play, they make believers out of everybody around them. I definitely think that's within the possibilities. It's never going to be a given. We've always got great competition we're going to be playing especially with the private schools and Region 6-AA. It's always going to be tough, but I think it's something they can do if they set their goals, set their mind right and work hard to see it come to fruition.