Boys basketball: Warriors' defense can't contain high-powered Buford offense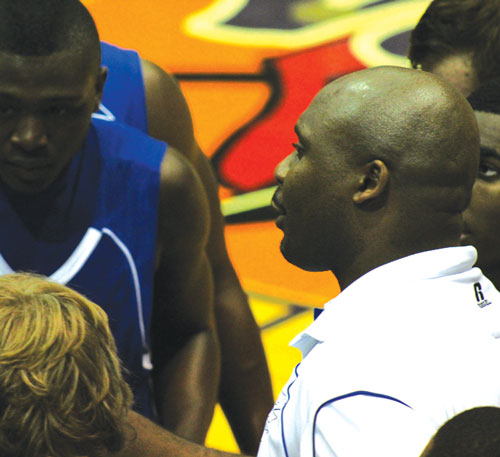 BUFORD — Just when Buford had taken on the identity of a defensive machine, the Wolves rolled out a high-octane offense in an 84-68 win over Gordon Central in the second round of the Class AAA boys' basketball tournament.
A.J. Davis led the way for Buford with a game-high 32 points and Kyle Doyle recorded a double-double with 19 points and 10 rebounds as the Wolves move on to the quarterfinals of the Class AAA tournament to meet the Woodward/North Murray winner on Wednesday.
Davis also chipped in three rebounds and two assists while Doyle added three assists and three blocked shots for Buford.
Gordon Central hung tough with Buford in the first quarter and took a 10-9 lead midway through the period on a basket by TyShaun Clemmons.
But that would be the only time Gordon Central would lead as Buford quickly regained control and built a 17-14 lead at the end of the opening quarter.
After Gordon Central scored the first field goal of the second quarter to cut the margin to 17-16, Buford went on a quick 9-2 run to push the lead out to 26-18 just two minutes into the period.
Buford eventually went to the locker rooms with a 42-33 lead after Gordon Central had snuck to within three at 36-33 with a minute to go in the opening half.
From there, Buford was in command as Gordon Central could only cut the lead down to nine at 46-37 early in the third quarter.
In fact, Buford upped the advantage to 15 at 62-47 at the end of the third quarter and led by as many as 19 on two different occasions in the fourth quarter before finishing with the 16-point victory.
The 87 points were the most scored by Buford since an 87-21 win over Fannin County on February 9.
But the 68 points allowed were the most Buford has given up since the last time the Wolves lost.
 – a 68-63 decision to North Hall on February 8 – and it caught the attention of Buford head coach Allen Whitehart.
"Offensively, we put up a lot of points," said Whitehart. "But defensively, I'm not happy. I thought we could have defended a lot better. We had too many breakdowns. I know it was more of an up-and-down game that we've had recently, but we can do a better job. But at this time of the year, a win is a win."
Isaiah Williams added 21 points and dished out nine assists for Buford.
Roderic King led the way for Gordon Central (18-9) with 24 points, five rebounds and two assists.
"I thought we were on our heels too much and because of that, we had too many unforced turnovers," said Gordon Central head coach Rodney English. "They are long and individually very talented. Davis did a good job against our smaller guards and Doyle was solid. But that No. 1 (Williams) is calm and sure with the ball. He always did what he wanted to do and I thought that was the difference in the game."
DJ Prather was also solid with 22 points and seven rebounds for the Warriors, but the senior was plagued by foul trouble after picking up his third foul with 2:50 left in the second quarter and his fourth with 3:22 left in the third quarter.
Chandler added 11 points, five rebounds and four assists for Gordon Central.