Boys basketball: Saxton scores 15 to help Model down Pepperell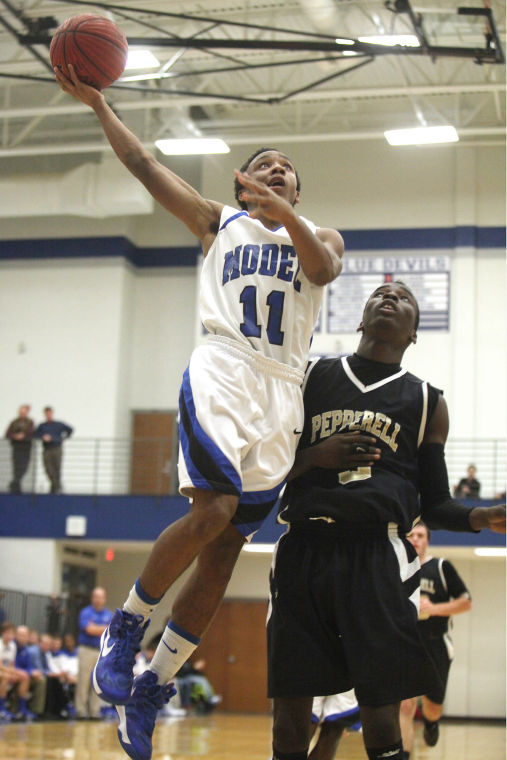 Woodard Gymnasium got another close showdown Tuesday night as a fourth quarter effort carried the Model Blue Devils to a win over Pepperell, 63-52.
The first half saw momentum swings in both directions, putting the score at 26-25, with Model in the lead, going into the third quarter.
The Blue Devils then opened the second half with an 8-0 scoring run, including three in a row from VJ Saxton.
But the Dragons were quick to answer as they asserted an 8-0 scoring of their own, bringing the game back within one point and leaving the third quarter down just 38-37.
The fourth quarter saw one more momentum swing, but this time it was all in the Blue Devils' direction.
Ignited by two back-to-back 3-pointers from Tyler Dean and punctuated by a dunk from Saxton, Model took control of the game and outscored the Dragons 25-15 to roll to the Region 7-AA win.
Pepperell starter Darrius Fugh fouled out of the game with four minutes left, complementing the Blue Devil control.
"Hats off to Pepperell," said Model coach Jacob Travis. "I thought they outplayed us for a good portion of the game. I really admired their effort tonight to play us that well."
The leading scorers for Model were Saxton with 15 points and Davy Fisher with 14.
Pepperell (7-11, 4-6), which was without starters Kyle Henderson (flu-like symptoms) and DeSean Ware, suffered their fifth straight region loss after sharing the top of 7-AA with Calhoun.
The win was well within Dragon sight until Model controlled the fourth quarter, midway through which the Devils (13-8, 7-4) attained an eight-point lead and never looked back.
"Well, they started holding the ball on us," said Pepperell coach Skip Matherly.
"Once they got up seven or eight we had to change a couple of things, and now it's advantage them because they're so quick."
Fugh posted 14 points on the night for the Dragons, Alex Rickman followed with 13 and Brody Bragg had 10.
For Travis and the Blue Devils, this win was about the buildup to the crosstown region game at Coosa on Friday and to the region tournament.
"It was a crucial win in some ways, and in some ways I don't know that it was," he said.
"Obviously, we're trying to get momentum going into the region tournament at this point, and Coosa is a big rivalry, but it's really about us getting better more than beating Coosa.
"Of course we want to win, and I'm sure Coosa wants to win, but it's about us playing well and continuing to get better going into the tournament.
"It's a big game for us to win, but I think we have to get ready for Coosa on Friday."
Model travels to Coosa on Friday for another key Region 7-AA game.
Pepperell will host crosstown foe Armuchee on Friday.