Boys basketball: Region 7-AA, Region 6-A geared up for postseason action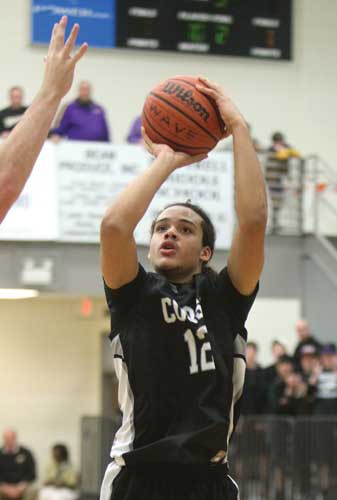 Even though for several teams in Floyd County it came down to the very last regular-season game and even a Saturday morning coaches meeting for a few, the postseason brackets are settled and Coosa, Armuchee, Darlington, Pepperell and Model are gearing up for some tourney action.
The region tournament is where a team can really prove itself, no matter what kind of regular season it had — good or bad.
A team that's on top of its game can continue its momentum straight through the region tourney while a team that has had a rockier regular season can prove to be just as determined to fight its way into state action.
That unpredictability is what the postseason in basketball is all about, and many teams will be looking to make a testament to a whole season's hard work during this week's tourney action.
Perhaps no other region in the state embodies this unpredictability than Region 7-AA.
The only teams in 7-AA who had their seed set before the last regular season games on Friday night were Calhoun with the top seed and Chattooga with the eighth.
Even after all the games were said and done on Friday, it took a coach's meeting on Saturday to determine the seeds of three teams — Model, Coosa and Murray County — who were tied for third.
On any given night, 7-AA action was likely to feature a close game that would often lead to an overtime or an upset.
"Anybody in this region can beat you," observed Coosa coach John McFather after his team's upset of Dade County on Friday. "In fact, anyone in this region can beat anyone."
Meanwhile, the Darlington Tigers will also be looking to make a statement in the Region 6-A tournament today.
With a subdivided region, the Tigers will face the challenge of going up against less familiar opponents, like their first-round foe Mount Pisgah Christian from the east side of 6-A.
With the postseason on the line, every team is looking to be on their A-game — and then some.
"(With our seeding) we have to win two games to get to the semi-finals, and our game tomorrow with Pepperell is going to be a hard one," said Armuchee coach Ray Tucker, who will be looking to lead his team to their first ever appearance in the state tourney in Armuchee school history.
Armuchee, Pepperell, Model and Coosa will be involved in the 7-AA tournament which starts on Tuesday at Georgia Highlands.
Calhoun and Dade County are the top two seeds in 7-AA respectively.
Darlington will open region tourney action at Walker today at 7 p.m.
COOSA: The Coosa Eagles, who are the No. 4 seed and will face the winner of Murray County and Chattooga on Wednesday, are a perfect example of the wackiness that Region 7-AA has produced this year.
The Eagles have beaten every region opponent at least once, and, furthermore, the only team they have beaten twice is Chattooga.
Coosa punctuated the back half of the season by upsetting the both of the top two seeds, Calhoun and Dade County.
The Eagles beat Calhoun in overtime a couple weeks ago and posted 109 points to down Dade County on Friday.
The win over the Wolverines showed a high energy offense that sent five Eagles to double figures in the score book.
Christian McFather hit six 3's in both Friday's game and against Armuchee last Tuesday, so the Eagles will be looking for strong performances from him and usual stand-out Isaac Bradley, along with balanced scoring like during Friday's win, to trounce their opponent on Wednesday.
MODEL: Model is the No. 3 seed in the 7-AA tourney and will face the winner of Tuesday's Pepperell-Armuchee game on Wednesday.
The Blue Devils have had a season with no real hot streaks, losing skids or major upsets, as they slowly but surely collected their 8-6 record that allowed them to nab the No. 3 seed after the tie was settled.
With that said, Model may just be experiencing the calm before the storm.
The Blue Devils' last three losses – two of which were against the top two seeds Calhoun and Dade County – have been within nine points, so the boys in blue are perfectly poised to strike during this week's tourney.
Model will find the task much easier if young stand-outs VJ Saxton and Davy Fisher continue to carry the scoring bulk along with steady contributers Tyler Dean, Dwight Hall and dangerous outside shooter Robert Pearson.
ARMUCHEE: The Indians will face Pepperell today to open to boys 7-AA tournament and are the No. 7 seed — but don't let their seed or their 5-9 record fool you.
These guys are just getting started and show no signs of slowing down.
After opening region play at 0-8, the Indians have gone 5-1 in their last six games, punctuated by an upset of No. 1 seed Calhoun on Friday.
"Our kids have really palyed well since Christmas," said Armuchee coach Ray Tucker, "and in our last six games we've won five.
"It's really a boost to our confidence, and beating the No. 1 seed really adds to that."
With the last five wins, the Indians have now beaten five of their seven Region 7-AA opponents, and if Armuchee can ride their late-season surge they just might make history.
Believe it or not, the Indians have never made the state tourney in all of Armuchee boys basketball history, and this year seems a better time than ever to make some noise.
Jonathon Mason could be a secret ingredient in the tourney, as his scoring just keeps going up, shown by his 28 point game on Friday against Calhoun.
And Armuchee will need every point they can get against Pepperell, as they have both defeated and lost to the Dragons in two very close encounters.
PEPPERELL: The Dragons will enter the tournament as the No. 6 seed, and will open tourney play against Armuchee today.
Pepperell opened region play with a 4-1 record, but then hit a six game skid midseason, so the Dragons have plently to prove on Tuesday.
With consistent performances from Darrius Fugh, Andy Dodd and workhorse Kyle Henderson, Pepperell will be looking to avenge their late-season woes and advance through the tournament.
Given their history with Armuchee, this will be no easy task.
The Dragons downed the Indians in overtime in their first goaround, but in their last meetup, Armuchee narrowly escaped with a six-point win.
Despite their 6-8 region record, Pepperell has shown one of the best defenses in the region this season, which they will need to stifle the Indians' brimming late-season momentum.
DARLINGTON: The Darlington Tigers are the No. 5 seed in Region 6-A/A, and they will play Mount Pisgah Christian today, who is the No. 4 seed from Region 6-A/B, for a chance to advance in the 6-A tourney.
The Tigers hold a 5-7 record, but have shown steady improvement throughout the season.
Darlington is entering the tournament on a three-game skid, the last two losses being within six points.
But after Friday's three-point loss to No. 3 seed Gordon Lee, you can expect the Tigers to be hungry – not disheartened.
This team, which features just one senior and many underclassmen who are on the varsity court for the first time, will be looking to prove themselves at Walker tonight.
Darlington seems to have different offensive standout every game, usually between Jeremiah McClure, Sawyer Hicks, Hector Picon and Hackett Shifflett, so if all four of the Tigers' main men can perform today, the boys in purple could be dangerous.