BASKETBALL: Oakwood girls win South Region, OCA boys settle for second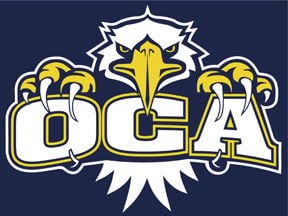 The Lady Eagles, winners of the Southern Christian Athletic Association regular season South Region title added a South Region tournament championship to their resume on Thursday night, beating host CAYA, 39-26, in the finals in Collegedale.
Tori Hall led the way with eight points for the Lady Eagles (13-8). The senior also had seven rebounds, four assists and collected a dozen steals. Phillips finished with seven points. Lexie Asher had six points and three rebounds, while Green had six points, 11 boards, three steals and two blocks.
Ownby four points and five rebounds. Kylie Hall had three points and three steals, while Lewis added two points and two steals.
Cleveland Christian boys 48, Oakwood 45
The top-seeded Eagles saw their lead over second-seeded Cleveland Christian slip away in the closing minutes and a pair of last-second 3-point attempts missed their marks as the Navy-and-Gold came up short, 48-45, in the Southern Christian Athletic Association South Region final in Collegedale on Thursday.
The loss also snapped OCA's season-high six-game winning streak.
Matthew McDonough had 11 points, 12 rebounds and four steals in defeat, while Garrison Baggett had 11 points, seven rebounds, three steals and three assists. Zack Cohen added eight points and three boards, while John Jacob McSpadden finished with seven points, four rebounds and three assists.
Andrew Phillips (5), Woody Hass (2) and D.J. Terry (1) rounded out the scoring for OCA (16-12).
Both teams will take part in the SCAA Final Four at the Rossville Athletic Center (301 Williams Street) next week.
The Eagles will play Monday at 6 p.m. against Knoxville Christian, while the Lady Eagles will face Tennessee Christian Prep at 7:30 p.m. on Tuesday.