Boys basketball: Model moves on with impressive second-round showing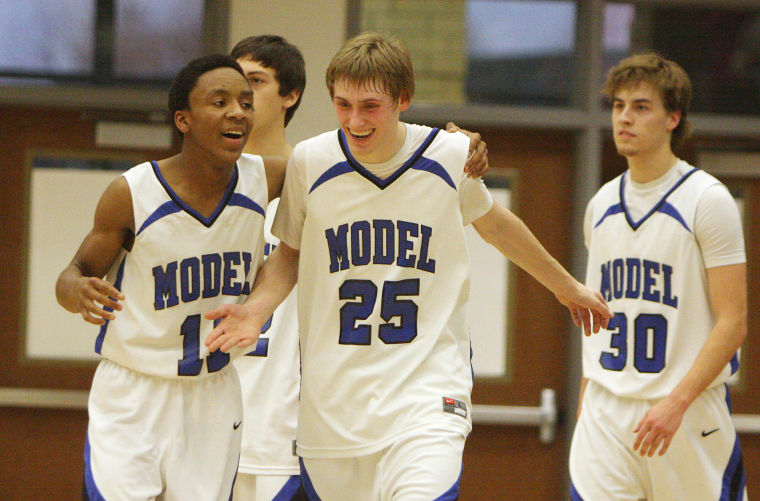 With Davy Fisher and VJ Saxton going strong, the Model magic continued on Saturday.
Model, which found itself in the Sweet 16 with a two-point victory earlier this week, extended its state-tourney run with a 92-76 home win over Kendrick.
With the win, the Blue Devils advanced to the Elite Eight and will travel to face Jordan, the top-seed from Region 5-AA, on Wednesday.
The advancement is the first time that the Model boys' program has made it to the Elite Eight since 1936, according to Model school officials.
"I don't know if we can measure (the win)," said Model coach Jacob Travis. "It's a great win for us, (and) it's a great win for our guys."
Fisher and Saxton led the Blue Devils with 28 points apiece.
Tyler Dean added 16 and Robert Pearson had 11 as the Devils moved within one victory of a trip to the Final Four.
"I can't really put it into words," Travis said about Saturday's victory. "It's a big, big win."
And although winning a second-round state tourney game is a huge stepping stone, the Devils made it look easy.
Dean started off the game with a 3-pointer, and Model kept the lead from that point on.
Model entered the second quarter with just an 18-16 edge over Kendrick, but the momentum was clearly swinging their way.
The Blue Devils used that momentum to extend their lead to 40-30 at the half with the help of two 6-0 mini runs.
Two major components of the second quarter lead-stretch were Dean and Davy Fisher, who combined for 16 points in the second quarter.
"We handled their pressure well in the half court zone and found the middle," said Travis.
"Davy Fisher did an excellent job. It was just a matter of time – we felt like we were hitting everything we were supposed to."
In the second half two more Model players came alive on offense to stretch the lead: VJ Saxton and Robert Pearson.
Pearson, who went scoreless in the first half, found the basket four times in the third quarter to post nine points in the period.
Saxton went nine-for-nine from the field in the second half, including two crowd-thrilling dunks.
Travis saw the full-team effort as a key factor in the win.
"Davy was our solution for the zone," he said. "He moved to the open spots really well, and he kept attacking. When he attacked VJ Saxton got involved.
"Then in the third quarter, Robert got hot," he added, "and they couldn't guard all of us at one time.
"I thought Tyler Dean played maybe his best game of the season at point guard. He handled their pressure and made them pay.
"And of course, Cole Oliver and Nakia (Watkins) as seniors were playing their best ball at the end. It was a great team effort," added Travis.
The effort made the Model lead, that was 24 points at its largest, even more comfortable as the Blue Devils rolled to the victory.
The game's leading scorer, however, came from Kendrick as Christian Bradford posted 35 points on the night. Marquise Banner had 16 and Kentrell Park had 10 for the visiting team.
For Travis and the Blue Devils, while making it this far has been a dream, preparing for a possible Final Four bid will take a gritty full-team effort.
"I didn't have any idea (if we would make it this far)," said Travis. "We've been preaching the same thing – same hokey statement – to be the best team you can be. If we do that then that's a high standard to reach, so we don't have any other excuses.
"(Winning on Wednesday will take) a very similar effort to tonight's, like a scratch-and-claw kind of win. At this point of the season, everyone is good, and everyone has players that can play.
"Doing the little things (will help us win). I don't think it's the big things anymore like the X's and O's. I think it's the little things."
BOX SCORE
BOYS: Model 92,
Kendrick 76
KENDRICK (76)
Christian Bradford 35, Marquise Banner 16, Kentrell Parker 10, Hampton 9, Griffin 4, Brown 2.
MODEL (92)
Davy Fisher 28, VJ Saxton 28, Tyler Dean 16, Robert Pearson 11, O'Neal 5, Watkins 2, Oliver 2.
Kendrick 16 14 14 32 — 76
Model 18 22 25 27 — 92
3-Pointers — Kendrick 4 (Bradford 3, Hampton 1); Model 6 (Fisher 3, Saxton 1, Dean 1, Pearson 1). Free throws — Kendrick 12-16; Model 16-20. Records — Kendrick 20-7; Model 18-11.