BOYS BASKETBALL: Model downs rivals to advance to semis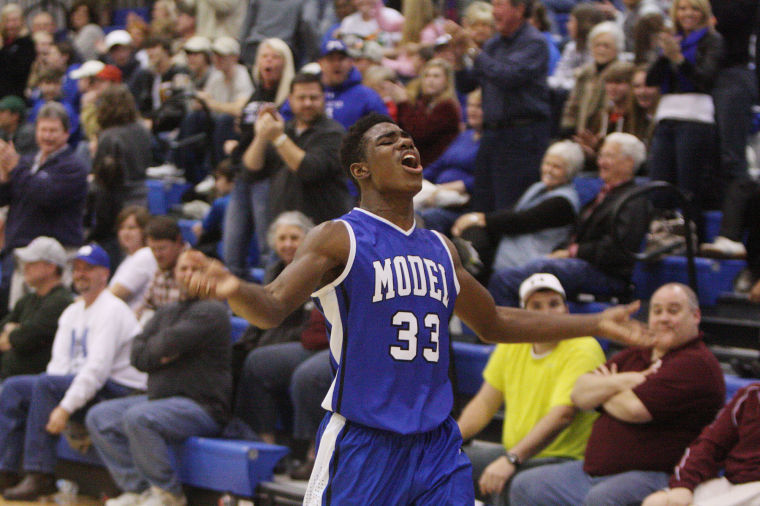 The Armuchee-Model second-round Region 7-AA tourney game carried a little extra emotional charge to Georgia Highlands on Wednesday night.
The game was not just marked by the heated Indian-Blue Devil rivalry — for the winner, it meant qualifying for the tourney semifinals, and thus securing a state tourney berth.
In the end, the Blue Devils came out on top of the crosstown matchup, 71-53, to lock up the state tourney bid — and deny Armuchee of its first-ever trip to state.
Model will play Dade County in the 7-AA semifinals on Friday at 8:30 p.m. at Georgia Highlands.
Despite the loss, Armuchee started off on the right foot with a 9-2 scoring run, but the Blue Devils quickly caught up, and finished the quarter with their own 10-0 scoring run to enter the second quarter with an 18-13 edge over the Indians.
The second quarter saw more back-and-forth scoring, but Model outscored the Indians 14-12 to leave the second half with a slightly more comfortable seven-point lead that was punctuated by a crowd-thrilling dunk from VJ Saxton at the halftime buzzer.
The Blue Devils rolled with their momentum in the second half and held the Indians to just 11 points in third quarter to stretch the lead to 46-36 going into the fourth quarter.
Model held off a potential Armuchee comeback in the fourth quarter, while outscoring the Indians 25-17 to roll to the 71-53 win and into the 7-AA semifinals.
"First off, I just want to say a lot about Armuchee," said Model coach Jacob Travis.
"They have toughness in character and they're the hottest team around.
"They had us really preparing for them, and it makes me as proud of our guys as I possibly can be that we beat a team of that caliber and that well-coached."
Indeed, the Indians were the team to look out for in the tournament.
Armuchee entered the tourney coming off an upset of top-seeded Calhoun and had won five in a row before Wednesday's game, but the Indians' momentum was halted with the Blue Devil victory.
"We showed some toughness and some character and did some things really well down the stretch," said Travis.
"We made some shots at crucial times, and we made our free throws late and that makes the game so much easier."
Making those shots were the game's leading scorers Saxton, who had 22 points, and Robert Pearson who added 21.
Davy Fisher finished with 14 points for Model.
Travis said that countering the Indians' dangerous shooting was key to the victory: "We took (Armuchee) apart a little bit late in the game, but early they came out hot," he said. "We knew they could shoot it, but we knew we couldn't get bothered by that. We had to keep playing one possession to the next and keep attacking and not get in a shooting contest with them."
Chad Wilson led Armuchee with 16 points, Jonathon Mason posted 15 and Jacob Booke had 11.
And speaking of teams who can shoot well, Travis knows that his team will have their hands full on defense yet again when they face the No. 2-seeded Dade County Wolverines, a team that the Devils have fallen to twice this season.
"(Dade County) is another team that can flat out score," said Travis, "and we've got to be ready to defend them.
"We've seen them twice, and both times they've scored well against us, so we need to be a better defensive team, and we need to keep attacking the scoring.
"It's going to be a battle."