Boys basketball: Late free throws help Coosa notch key 7-AA win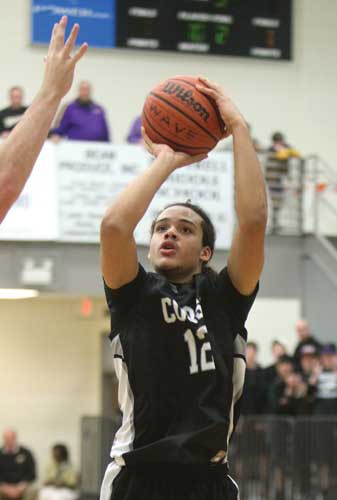 The Coosa Eagles and Pepperell Dragons rivalry is an unpredictable crosstown match-up.
Both teams have beaten each other by 20 points or more this season, but on Tuesday night, the winner was in question until the end.
Two Coosa free throws with five seconds on the clock ensured the Region 7-AA win for the Eagles, 49-48.
The game featured a couple of momentum swings, with the Dragons taking control of the first quarter with a 16-6 lead.
The tables were turned, however, in the second quarter, when Coosa held Pepperell to just six points while the Eagles posted 12.
Given a halftime score of 22-18 with the Dragons in the lead, the Eagles scored just enough — and held off Pepperell's offense just enough — to tie the game at 41-41 early in fourth quarter with a 3-pointer from Christian McFather.
Coosa had both the lead, 47-45, and the ball with 12 seconds left to play, when a last-ditch foul effort put Coosa's Corley Grier at the free throw line.
Grier sunk both shots, giving the Eagles a four-point edge with five seconds left.
Darrius Fugh hit a 3-pointer at the buzzer to close the gap to one, but to no avail, as the Eagles tucked another 7-AA win under their belt.
"We just played a little better defense (in the second half than in the first quarter)," said Coosa coach John McFather.
"We played man-to-man defense … and we caught them off balance some, and then we hit some big shots too.
"We executed a little bit better, and that changed the momentum, I thought. Overall I thought it was more on the defensive end."
Making those big shots were Coosa's leading scorers Isaac Bradley with 16 points and Christian McFather with 14 points, including three 3-pointers.
For Coosa (11-7, 5-3), this win means one huge step closer to their region goals.
"Pepperell is a good team, no doubt about it," said McFather.
"They're playing everyone tough just like everyone in the region is playing everyone tough, and to come on the road and get a region win is huge.
"I don't care where it is or who it is. It means a lot because we're fighting to be at the top.
"Every game is important, and we're trying to build momentum and get better as it gets close to the region tournament."
Although the loss for Pep-perell (7-9, 4-4) has negative region connotations, head coach Skip Matherly is staying positive.
"Coosa is a good basketball team," he said.
"I think they should be first or second place in the region to be honest with you. I thought our kids played very hard, and they played very tight-knit.
"I thought both teams battled on very even terms. It was just a great competitive basketball game between two teams who are both trying to figure out who we are and still looking for identity.
"Tonight was a coin-flip, so who is to say we won't see them again in (the region tournament).
"I'm really proud of how hard our kids fought; we just had some rotten luck the last three minutes."
Pepperell plays Calhoun on Friday. Coosa hosts Murray Co.