Boys basketball: Jackets' title quest ends in Sweet 16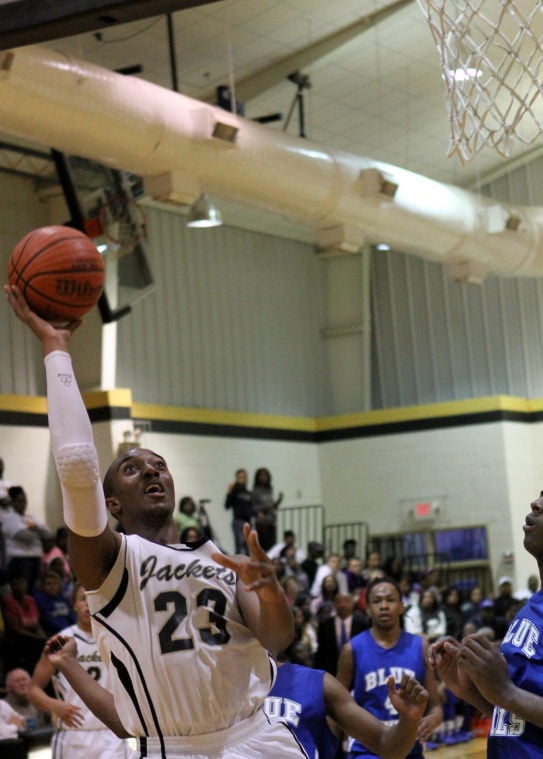 CALHOUN — In the closing seconds of Saturday's game, the Manchester boys finally figured out a way to stop Calhoun's deadly perimeter attack.
The method? They prevented Calhoun from getting a shot off.
Clinging to a 3-point lead with five seconds to play, the Manchester defense batted down a long pass that was intended for Calhoun sharpshooter Greyson Arnold.
And as the players scrambled the loose ball, the clock expired, allowing Manchester to escape with a 73-70 victory in the second round of the Class AA state tournament.
Manchester (24-4) now advances to play top-seeded and top-ranked Greater Atlanta Christian in the Elite Eight.
Calhoun, the Region 7-AA regular season and tournament champs, sees its season end with an 18-6 record.
"It's a tough pill to swallow," said Calhoun coach Vince Layson about Saturday's loss. "In tight games, it comes down to one or two plays — a turnover here or there or a missed one-and-one — that (makes the difference)."
Calhoun, which knocked down a dozen 3-pointers in the game, owned a 64-61 lead with four minutes to go in the fourth quarter. But Manchester closed the game on a 12-6 run to steal the win.
The surge included two explosive drives to the basket by Kevis Martin, who finished with a game-high 23 points.
Manchester's Hozel Campbell knocked down six 3-pointers and scored 22 points.
He made three 3-pointers in the first quarter, and then drained a buzzer-beating shot from about five behind the arc to end the first half and give Manchester a 38-36 lead.
Damien Turner finished with 20 for the Bulldogs.
Calhoun also had three players in double figures, with Austin Byrd scoring 21, Arnold finishing with 17 and Kaelean Riley adding 10.
The teams were never separated by more than six points in the second half of the tightly-contested game, which featured nine lead chances and five ties overall.
"It was a great game (and) a fun game to be apart of," said Calhoun's Taylor Lamb.
The game was played in front of jam-packed house at Calhoun Middle School, and featured high intensity from the opening tip-off to the final buzzer.
Lamb said Calhoun's performance was the team's "best game" of the season, and said the Jackets can take consolation in knowing that they didn't back down against a team that owned the state's No. 1 ranking during a portion of the season.
"We left it all out there," said Lamb.
Manchester earned the win despite making just 9-of-23 free throws, including making only 4-of-10 in the final four minutes.
BOX SCORE:
BOYS: Manchester 73, Calhoun 70
MANCHESTER (73)
 Kevis Martin 23, Damien Turner 20, Hozel Campbell 22, Addie 1, Clements 4, Hudson 3.
CALHOUN (70)
Austin Byrd 21, Greyson Arnold 17, Kaelan Riley 10, Parker 9, Lamb 7, Fightmaster 4, Wilson 2.
Manchester    18    20    12    23    —    73
Calhoun    23    13    18    16    —    70
3-Pointers — Manchester 6 (Campbell 6); Calhoun 12 (Arnold 4, Parker 3, Byrd 2, Riley 2, Lamb 1). Free throws — Manchester 9-23; Calhoun 4-10. Records — Manchester 25-4; Calhoun 18-6.