BOYS BASKETBALL: Jackets fight off tough Hapeville Charter squad for first-round tournament win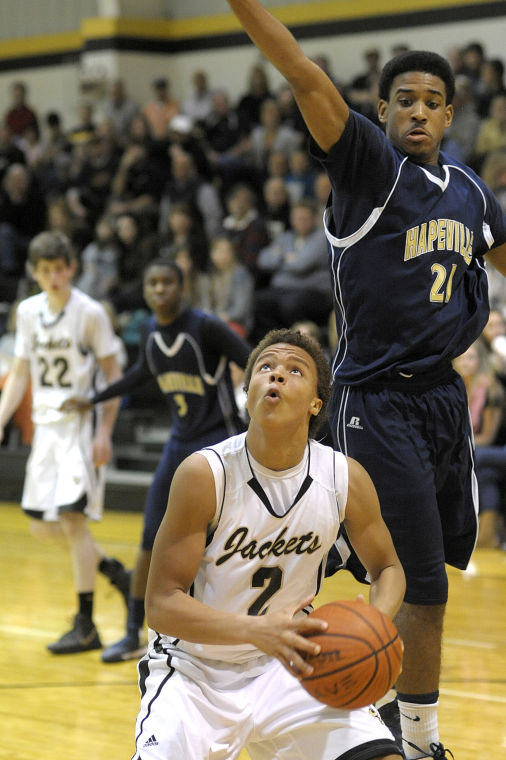 Other than the seed you carry into the state tournament, nothing you did in the regular season matters once the tournament starts.
That showed itself in a big way on Tuesday as Calhoun, the Region 7-AA champs, welcomed No. 4 seed and seven-win Hapeville Charter to town and had to fight and claw until the final minute for a 59-55 win.
The Jackets (18-5) now advance to take on Manchester in the second round on Saturday. The Blue Devils defeated Greene County, 76-71, on Wednesday.
"I told them coming down the stretch that I know it's been a long time since Calhoun got a victory (in the state tournament), and hats off to Hapeville, they put it to us tonight," said Calhoun first-year head coach Vince Layson. "But also credit to our guys. They stepped up to the challenge and finished down the stretch right there."
The game was tight throughout especially in the second half with neither team holding a lead of more than six at any point in the third or fourth quarter. Calhoun trailed 16-9 after the first quarter but battled back to be down just two at the break.
In the third quarter, the teams traded baskets back and fourth with Hapeville Charter holding a 41-40 lead at the end of the period. Calhoun finished it off by outscoring the Hornets 19-14.
The Jackets were clutch at the free throw line in the fourth with the biggest two makes coming from senior Collin Parker with just under 10 seconds left to extend the lead to four and essentially seal the game. Freshman Kaelan Riley also hit several big shots from the line, going 6-for-8 in the fourth quarter.
"We've been stressing all week and even in pregame today that doing the little things like rebounding and making free throws when the pressure's on is going to be the difference from here on out in the playoffs," said Layson. "And those guys stepped up coming down the stretch and knocked those down to seal it up for us."
Riley led the way for the Jackets with 15 points, eight coming in crunch time in the fourth quarter. Greyson Arnold added 13 before fouling out early in the fourth quarter. Austin Byrd had seven, and Jireh Wilson scored six.
Layson said he thought the youth of his team showed a little tonight with the stakes raised for the first round of the state tournament.
"I think nerves and lack of experience showed itself tonight," said Layson. "We play a lot of young guys, and not having the experience of playoff basketball or even winning basketball kind of showed its teeth tonight. But they battled through it, and I'm proud of them."
What the Jackets did show in the win was that they knew what to do in close games as this was the tenth game this season that has been decided by seven points or less.
Layson said that's the kind of battling team he has.
"We hadn't gotten anything easy all year long," said Layson. "It's been a night in, night out thing for us to have a close ballgame that keeps you on the edge of your seat a little bit. I don't know if they like it that way, or they just want to give me a heart attack, but they keep pulling it out. I hope we can continue doing that."
Layson added that he thinks turning around and playing with not a lot of time between games will benefit his team.
"Stepping into the second round, I think it goes in our favor to play quick because down time and sitting around, the guys don't like that too much," said Layson. "So we'll get right back in the gym for practice and a game right away, I think they'll respond well to that."
BOX
Calhoun boys 59, Hapeville Charter 55
HAPEVILLE CHARTER (55)
Ross 6, Poole 2, Strong 14, Harp 3, Gwin 11, Nelson 2, Smith 11, Rahming 4, Robinson 2.
CALHOUN (59)
Parker 6, Riley 15, Wilson 9, Moss 2, Lamb 5, Arnold 13, Byrd 7, Fightmaster 2.
Hapeville C. 16 16  9                  14 — 55
Calhoun        9 21 10                  19 — 59
3-Pointers — Hapeville Charter 4 (Strong 2, Gwin 1, Rahming 1); Calhoun 1 (Wilson 1). Free throws — Hapeville Charter 13-21; Calhoun 20-29. Records — Calhoun 18-5.