BOYS BASKETBALL: Jackets down Eagles for 3rd time this season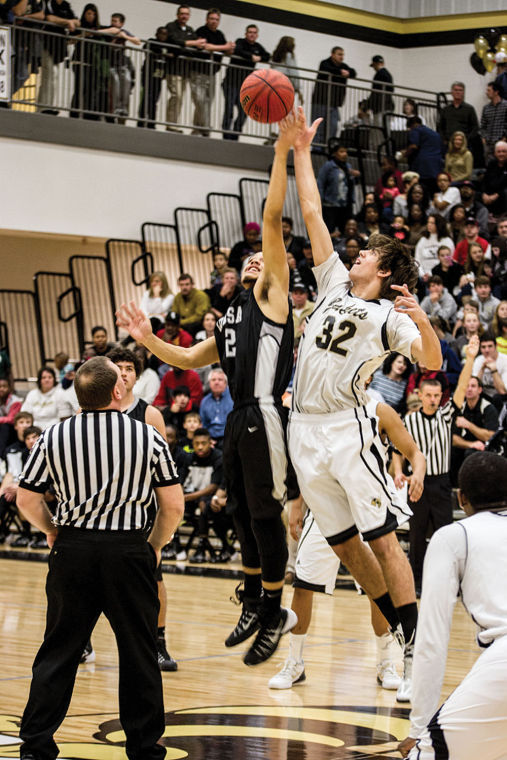 CALHOUN — For the third time this season, Calhoun and Coosa met on the court. And for the third time, the Jackets earned a big win over the Region 7-AA rivals.
Calhoun, celebrating their first home game in their brand new gym, turned a five-point halftime lead into a 16-point lead at the end of the third quarter to earn a 52-42 victory on Friday night.
The Jackets (13-1, 7-1) came out of the locker room and took control in the third, hitting open shots and making everything hard for Coosa with their defense. Calhoun outscored the Eagles (11-6, 5-3) 18-7 in the period.
"I told the guys right before we broke the huddle after halftime that the first three minutes of the third quarter would dictate which way this game was going to go," said Calhoun coach Vince Layson. "And the guys responded. We hit some shots and built a little lead, and that took the air out of them a little."
Kaelen Riley scored 19 points to lead Calhoun, 14 of those coming in the second half. Riley went 9-of-10 from the free throw line in the fourth quarter to help clinch the Jackets win.
"We put the ball in (Kaelen's) hands a little more in the second half, and he played well," said Layson. "He got acclimated to the gym a little more with some of his shots falling, and he got to the free-throw line and made them count."
Jireh Wilson also had a solid night with 14 points, including hitting two big three-pointers in the game-changing third quarter. Austin Byrd and Keyth Fightmaster each added eight.
Coosa attempted to mount a rally in the fourth quarter, cutting a 16-point deficit to 10 a couple times, but that would be as close as they got. Isaac Bradley led the Eagles with 13 points, nine coming in the second half. Billy Bell added eight.
Coosa coach John McFather said his team didn't do some fundamental things well on Friday, and Calhoun took advantage of it.
"In the first half, we didn't box them out several times, and they got several second-chance points," said McFather. "Execution-wise, we need to improve also, and in the third quarter, we just gave up several uncontested, open shots. We had trouble figuring out who everyone was guarding in our man defense.
"We've got to learn how to be more consistent and be smarter as far as knowing what is a good shot for us."
The teams traded blows in the first quarter with the score tied 12-12 at the completion of the period. Then both teams struggled to score in the second quarter before Calhoun ended the half on a 5-0 run to take a 21-16 lead.
Layson said it was exciting for his team to finally be in the new gym after spending the last two and a half seasons playing at the Calhoun Middle Gym and practicing at several different locations.
"I feel like we set the tone for the crowd and our team with how we played tonight," said Layson. "Our guys really took ownership in having our own home facility, and you could tell they really enjoyed themselves.
"Hopefully, with playing well like we did tonight, it will get the crowd like we had coming back to give us a big home-court advantage from here on out."
Calhoun is back at home tonight to host Model at 6 p.m.; Coosa visits Pepperell on Tuesday.