Boys basketball: Eagles upset Dade County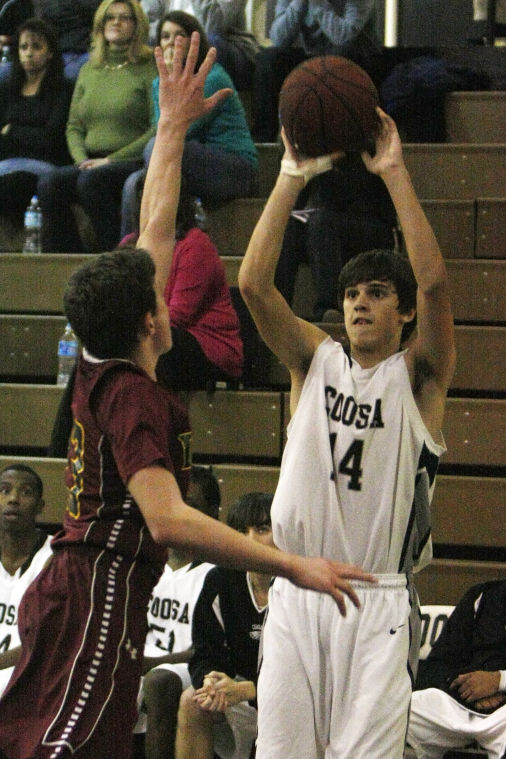 This season in Region 7-AA boys basketball, it seems like anyone can win on any night, and Coosa High proved that on Friday when they downed Dade County at the Eagle's nest.
The Eagles fought to a 109-89 victory over the visiting Wolverines, putting them in a three-way tie for third in the region with Model and Murray County.
The seeds for the tourney will be decided in a coach's meeting this morning.
As the score suggests, Coosa used a high-energy offense to counter the expert shooting Dade County is known for.
Adding to the erratic behavior of 7-AA, Coosa has now beat every opponent in the region at least once, checking Dade County off their list with the win on Friday.
The victory not only boosted speculation about the possible 7-AA outcomes, but boosted the Eagles' tourney confidence as well.
"(The win) does a lot for our kids confidence," said Coosa coach John McFather.
"Our kids played hard tonight, and we didn't play this hard the other night (against Armuchee)."
The first quarter showed Coosa steping off on the right foot by opening the game with an 8-0 scoring run.
The Wolverines quickly caught up, but the Eagles still entered the second quarter with a 22-16 edge.
In the second quarter, the Dade County offense sparked up enough to outscore Coosa 25-22, trimming the Eagle lead to three points.
But the third quarter was all about Coosa — offense and defense.
It only took the Eagles half of the third to build a ten-point lead, and then a 10-0 scoring run stretched that lead to 20.
Meanwhile, Coosa held Dade County to just 11 points in the third quarter.
"Our kids have worked real hard to get better on both sides of the ball," said McFather, "and that's part of the growing process, is you've got to work on both sides of the ball — offense and defense — and our kids are doing that.
"To be honest with you, when you play great defense, most nights offense just seems to flow, and that was certainly true tonight."
That offense flowed to post 37 more points in the fourth quarter to match the Wolverine's own 37 fourth-quarter points and roll to a 109-89 win.
The Eagles put five scorers in double-digits, three of which scored in the 20s.
Isaac Bradley led Coosa with 27 points, Christian McFather posted 24 including six 3-pointers, and D.J. Smith had 20 points.
Korley Grier scored 18 and Billy Bell chipped in 11.
"We're blessed with a lot of scorers and we've got a lot of shooters. (Dade County) does as well, but our guys — we preach defense too, don't get me wrong — but there's two sides to basketball. There's an offense and defense," said McFather.
The Eagles know they will see stiff competition next week at the region tournament, but with Friday's win, McFather feels his team has the momentum to go far.
"We've been preaching to our players all year long, that you've got to bring great intention to the floor and great defense every night," he said, "and if you don't anybody in this region can beat you. As a matter of fact, anybody in the region can beat anybody.
"We have learned some painful lessons along the way, and tonight I felt like we built some momentum that showed our guys if we bring it like this we can go a long way in the region tournament and hopefully in the state as well."
The Wolverines had four players reach double digits. Clynt Bell lead with 30 points including nine 3-pointers, Cole Birchfield finished with 34 and Dustin Howard and Nic Gaddis has 10 apiece.
Dade County locked a second-place berth to the state tourney when Murray County fell to Model on Friday night.
They will receive a double-bye to the Region 7-AA semifinals.
The Eagles will be looking forward to region tourney action next week, depending on the where they end up in the 7-AA standings.
boys: Coosa 109,
Dade County 89
DADE COUNTY (89)
Cole Birchfield 24, Walden 5, Clynt Bell 30, Chitwood 2, Dustin Howard 10, Nic Gaddis 10, Sharp 4, Page 4.
COOSA (109)
Isaac Bradley 27, Christian McFather 25, Korley Grier 18, DJ Smith 20, Billy Bell 11, Wilson 4, Billups 2, Lamboy 3.
Dade Co. 16 25 11 37 — 89
Coosa 22 22 28 37 — 109
3-Pointers — Dade County 13 (Birchfield 2, Walden 1, Bell 9, Gaddis 1); Coosa 10 (Bradley 2, McFather 6, Grier 2). Free throws — Dade County 16-23; Coosa 19-23. Records — Dade County 17-7, 9-5; Coosa 15-9, 8-6.