BOYS BASKETBALL: Eagles grounded by Calhoun in Elite Eight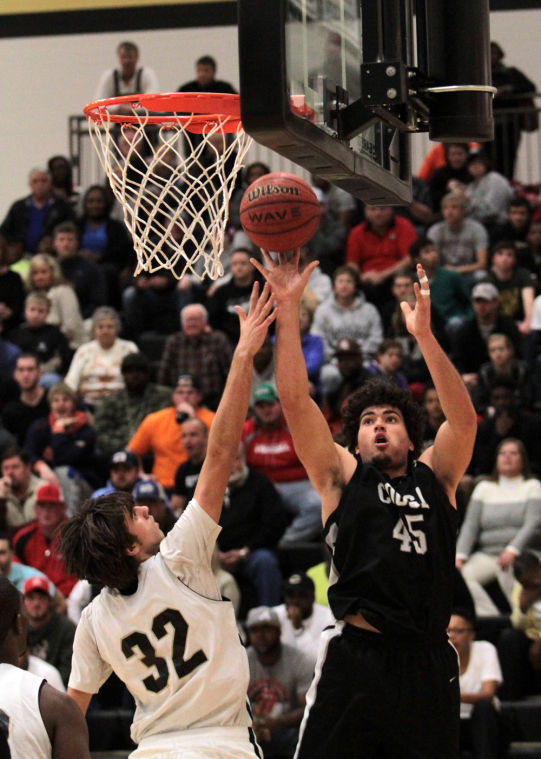 Led by the stingy defense of Jireh Wilson, the Calhoun Yellow Jackets saved their best for last, scoring a game-high 23 points in the fourth quarter to run past the Coosa Eagles, 67-59, at home Thursday night.
With the win, the Yellow Jackets punched their ticket to the Final Four in the AA State Championship bracket for the first time since 2002.
"I told the guys from Day 1 that they were a final four caliber team and anything less would be a disappointment," said Calhoun coach Vince Layson.
"From here on out, you're here for a reason. Bad teams don't make it to the final four. Next game and next two games, anything can happen. I feel like we can play with anybody we see. We're versatile enough on defense to adjust to any kind of offense we see. It's going to boil down to just making the plays."
In their fifth matchup against the Yellow Jackets, this was the closest the Eagles had come to beating Calhoun following four consecutive losses.
"I thought we played great for those three quarters. The first two minutes of the fourth quarter got away. That was the difference in the game," said McFather.
For Coosa, it was Tavaris Wilson's night to shine.
He was electric through the toughly-contested first half, knocking down six 3-pointers and scoring 20 of the Eagles' 32 points.
Whether he was wide open in the corner or Calhoun's Jireh Wilson had a hand in his face, it seemed Tavaris Wilson couldn't miss.
But at the break, it was Jireh Wilson's determination to stop Tavaris Wilson in the second half that was the difference. He hounded Tavaris Wilson around perimeter, fighting through screens to stay on the hip of the Coosa sharpshooter.
"He made like six 3s in the first half. As a team, we locked down on defense," said Jireh Wilson.
"I felt like I had to step up."
As Calhoun and Coosa traded baskets, Jireh Wilson never lost track of Tavaris Wilson. Tavaris WIlson scored just four points in the third quarter, but had an opportunity to change the tide of the game late.
With the clock running down in the third frame, and the game knotted at 44, Billy Bell stepped around a screen and fired from range. Chandler Curtis pushed through the screen and extended for a block, leaving what appeared to be just over a second left on the clock.
When Coosa prepared to inbound, with just 0.1 second showing on the scoreboard, Tavaris Wilson caught the ball and fired again, this time knocking down the desperation shot for the Eagles. Instead, the referees ruled the shot was after the clock had expired, sending the contest into the fourth all tied up.
"It was close. I was hoping they'd give it to us, but it was close," said McFather on Tavaris Wilson's shot.
"It was a quarter where we were trading baskets, and I didn't like trading baskets. We needed to get some stops."
Jireh Wilson hit a two in the opening minute of the final quarter, Chandler Curtis stole the ball on the next possession and Keyth Fightmaster grabbed an offensive rebound off Curtis' transition attempt before putting it back in for a four-point swing.
Coosa's Isaac Bradley was whistled for his fourth foul of the game on the next Eagles possession, his third illegal screen called for the game. On defense, Bradley then went up high to block a Kaelen Riley shot attempt and earned his fifth and final foul.
Riley hit both free throws and before Coosa could recover from Calhoun's body blows, the Yellow Jackets had rattled off a 12-2 run to take a 10-point lead.
"Going down the stretch, we didn't blow any defensive assignment and limited them to one tough shot and got a rebound off it," said Layson.
"Just playing good, hard-nosed defense down the stretch got us to that point."
Playing defense wasn't the only outstanding part of Calhoun's night. The Yellow Jackets hauled in 12 offensive boards, doubling Coosa's amount for the night and held a 25-15 rebound advantage for the evening.
"We needed to get on the boards a little better and box out. We told the guys, we've got to keep them off the boards. I don't think we did as good a job at that. You can't give a team, especially not Calhoun, those second-chance shots," said McFather.
"To their credit, that's the way they play. They play hard, they shot the ball pretty well, but they're not a great shooting team. They did what they like to do and went to the boards. We just needed to do a better job."
While it will be a tough loss to overcome, the Eagles return most of their core next season. And for Tavaris Wilson, he'll surely be ready to get back on the court when the season rolls around again.
"Tavaris is a tremendous player. He's turned into one of the best guards in the state of Georgia on both sides of the ball. There's not much he can't do," said McFather.
"It's been an honor to watch him develop into that player. He's an unbelievable player. He's a junior, we have him coming back. He's had tremendous games the last five or six games. He's had that confidence all year long and he knows we believe in him."
The Eagles (20-10) have set a precedent for their current roster by advancing to the elite eight, and McFather believes his team will be just as hungry to come back next year.
"I'm extremely proud of this team. We were the only No. 4 seed to go this far in AA. We won two extremely tough games on the road, and that says a lot about our team's character.I think a lot of folks wrote us off. Boy did they play their hearts out these last three games," said McFather.
"For these young guys, coming so close to the final four. I think that's going to inspire and motivate these younger guys to go even further in the future."
With their heads held high, the Yellow Jackets (25-2) will advance to play Vidalia (30-0) at Columbus Saturday at 8:15 p.m.
"This is Calhoun's third trip to the final four after going in 2001 and 2002," said Layson.
"Calhoun's got some great basketball history, and it's good seeing us back where we used to be."
The Yellow Jackets won't be traveling just to see what happens. They'll go into Saturday's contest with high expectations.
"Win it," said Jireh Wilson.
"We want to win it all."
SCORING
Calhoun
Chandler Curtis 20, Austin Byrd 15, Keyth Fightmaster 12, Kaelen Riley 11, Jireh Wilson 9
Coosa
Tavaris Wilson 26, Korley Grier 17, Billy Bell 6, Calean Carter 5, Isaac Bradley 2, Bryson Lamboy 2, Stephvon Faust 1