Boys Basketball: Calhoun rallies in second half to beat Dragons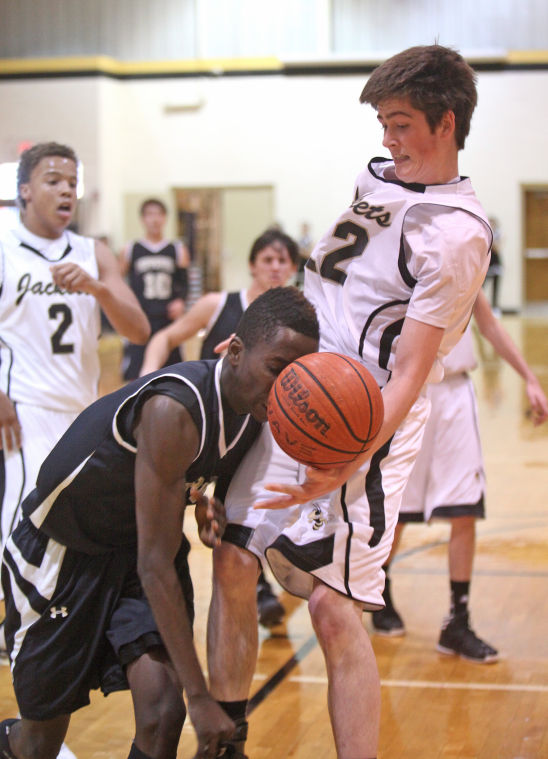 CALHOUN — Pepperell was the team that started Saturday's game with energy; Calhoun was the team that finished with it.
After trailing 26-18 at the break, the Jackets turned it up a notch in the second half to outscore Pepperell 44-21 and get a 62-47 region win at home.
Calhoun (11-3, 7-1), which has now won four in a row, struggled offensively in the first half, but made the adjustments they needed at the half to get the win.
"After last night's game (at Dade County), I think the legs were a little tired in the first half and it took us a while to get into the flow of things," said Calhoun Coach Vince Layson.
"And after we struggled to put the ball in the hoop in the first half, we talked about how our defense needed to help us get into our offense at the half. We came out in the third quarter and started playing our style game, forcing turnovers and attacking."
Greyson Arnold led the Jackets with 17 points. Keyth Fightmaster had 14, 13 of those coming the second half, and Kaelen Riley added 12.
The Jackets led 43-38 shortly into the fourth quarter before putting the game away with a 7-0 run to stretch the lead to 12.
Darrius Fugh and Alex Rickman had 11 apiece to led Pepperell (7-8, 4-3). Brody Bragg had nine.
It was the second loss in a row for the Dragons after they had reeled off three straight wins in the region.
Pepperell Coach Skip Matherly said he was happy with how his team came out after the tough loss to Murray County on Friday, but they just couldn't keep it up in the second half.
"The guys responded well coming off last night, and in the first half we played about as well as we've played over the last couple weeks," said Matherly.
"But in the second half, we just struggled offensively, and Calhoun had something to do with that.
"I can't fault the guy's effort today. Calhoun is just a good team, and it was their day. They grabbed the momentum in the second half, and there wasn't much we could do after that."
Layson said his team's biggest asset is the way they play defense, and that has to be consistent throughout the region schedule for them to continue their success.
"Our defense is what we depend on," said Layson.
"We're not always going to be at our best on offense, and those nights we have our defense to fall back on. We have to come out and play defense every night."
The win caps off a 3-0 week for the Jackets with wins over Armuchee, Dade County and Pepperell.
Layson added that the goal coming into the week was to get three wins, and his team delivered that with the win today.
"It's huge," said Layson of the 3-0 record this week, which puts them two games ahead of everyone else in the region. "It's always good to have that insurance and to put a cushion between us and the other teams in the region."
For Pepperell, who is now one of five teams in 7-AA with three region losses, Matherly said his team just has to come back to practice ready to get better after the two-game skid.
"We've got to go back to work," said Matherly. "It's not a matter of trying to change any big thing, we've just got to get a little bit of momentum going back our way.
"We've got two games at home this week, and we've played well at home this year. Hopefully, that can make a difference and get us headed back in the right direction."
The Dragons host Coosa on Tuesday; Calhoun hosts Chattooga.