BOYS BASKETBALL: Calhoun outlasts Devils in matchup of top 7-AA teams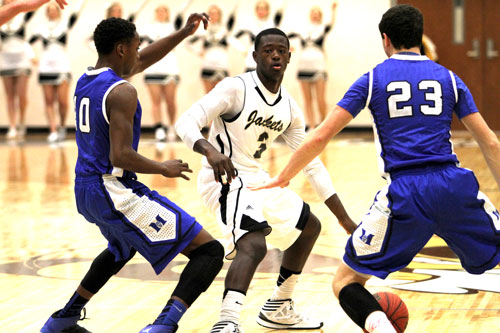 The top two boys teams in the Region 7-AA standings met on Saturday night as Calhoun hosted Model in what could be a preview of the region title game in February.
Both teams' explosive and capable offenses struggled to get the ball in the basket, but it was the Jackets who did enough to pull away and win 50-38 at home.
Calhoun (14-1, 7-1) and Model (13-2, 7-1) didn't light up the scoreboard for any stretches in the contest, as the Jackets led 9-8 at the end of the first quarter and then 23-21 at the half. The second half is when Calhoun got the upper hand, with a 12-8 advantage in the third and 15-9 advantage in the fourth.
"I don't think we did anything that much differently (offensively) in the second half," said Calhoun coach Vince Layson. "We just stuck with our original plan, and things started to go our way a little. We got some good shots, and finally, a few of them started to fall."
Jireh Wilson led the Jackets with 14 points, seven coming in the fourth quarter, as he helped his team put the finishing touches on the big win that moved Calhoun into first in the 7-AA standings just over halfway through the region schedule. Kaelen Riley and Austin Byrd added 12 points apiece.
Wilson has taken on a little more of a scoring role in Calhoun's games lately after mainly serving as a distributor for the first few weeks of the season. Layson said he's been pleased with the way Wilson has played of late.
"I haven't really discussed with Jireh to be more aggressive on offense these past few games, but he's played well," said Layson. "He struggled a little scoring early in the season, but he's really blossomed lately."
The Devils tied the game midway through the third quarter and trailed by three at 32-29 later in the period before Calhoun finished the quarter on a 5-0 run. Model would never get within six points of the lead again.
Model's usually-potent offense was held to 21 points less than their previous season-low. They were held to single-digit points in three of four quarters in the loss. Davy Fisher and Dwight Hall each scored 11 points to lead the Devils.
Layson said his team just played fundamental defense throughout, and Model didn't have their best shooting day.
"We didn't do anything special or have any gimmick defense," said Layson. "We just got out to contest shots and didn't gamble a whole lot, and they just couldn't get very many shots to fall."
The game was just the second for the boys in Calhoun's new gym, and with Model playing there for the first time, getting acclimated to it could've played a part in their offensive struggles. They will need to put the game in the new gym behind them, as it will also host the Region 7-AA Tournament in February.
Layson said the win was a big win for his team, but there are still areas to improve in to reach their full potential.
"Region-wise it puts us right up there at the top with Model so that's huge going forward as we want to get that top seed for the region tournament," said Layson. "We've still got some work to do as far as making good decisions at the end of games and knowing when to slow it down and when to go.
"We've taken a step forward as a team over the last few games, but we're still not there yet."
The Jackets are back on the road on Tuesday as they visit Model in the second of back-to-back games against the Devils.
BOX
Calhoun boys 50, Model 38
MODEL (38)
Dean 4, Hall 11, O'Neal 3, Pearson 5, Saxton 4, Fisher 11.
CALHOUN (50)
Riley 12, Wilson 14, Curtis 7, Rierson 2, Byrd 12, Fightmaster 3.
Model    8    13    8    9    —    38
Calhoun    9    14    12    15    —    50
3-Pointers — Model 6 (Fisher 3, Hall 2, Pearson 1); Calhoun 2 (Wilson 1, Curtis 1). Free throws — Model 8-11; Calhoun 12-17. Records — Calhoun 14-1, 7-1.