BASKETBALL: Wolves survive scare from Trion to advance at Festival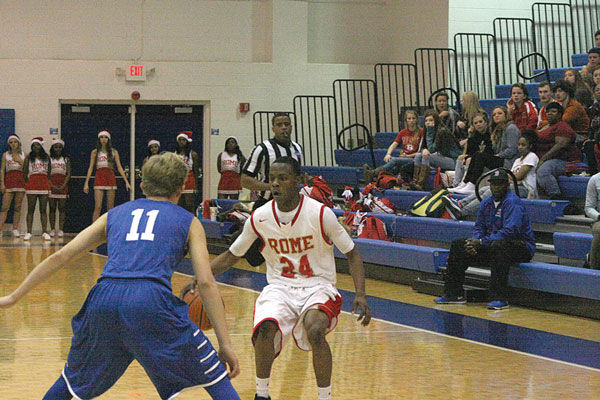 The Rome Wolves spent all Wednesday night chasing shooters and grinding their way to points only to find themselves still in a tight game.
In the end, a few fast breaks in the fourth quarter made the difference.
Rome senior guard Trey Driver recorded 22 points and the Wolves needed every ounce of effort to pull out a 55-52 win against Trion in the Holiday Festival basketball tournament quarterfinal at Georgia Highlands College.
"Trion did a good job of executing and taking us out of what we were supposed to be doing," Rome coach Milt Travis said. "We were able to sustain by playing hard at the end and fighting. It was a dog fight."
Rome survived a career night from Trion sophomore Jarrett Gill, who hit seven 3-pointers and scored 26 points.
His shooting was a huge part of a Bulldogs team that exuded full confidence it could pull out a win.
Gill had the chance to send the game to overtime with 3.1 seconds left, but his possible game-tying 3-pointer fell just short at the horn.
Rome's Driver and senior forward Jai Creamer, who finished with 14, provided the backbone that withheld the upset bid.
Neither team led by more than 10 points the entire game, as every basket from Rome seemed to be countered with a Gill 3 or inside score.
Gill opened the game with a 3, and another long-range shot from Trion put the Bulldogs up 8-4 early. Driver and Creamer helped put a small run together to push the Wolves ahead, 16-12, after a quarter.
But Rome (5-1) fell behind again in the second quarter when Gill hit three more of his deep shots, forcing Travis' team to swarm him the rest of the game. Trion coach Levi Hatcher said it was Gill's first big game of the season.
"That's the first time he's done something like that this year," Hatcher said. "He is a good shooter. He's coming off football and been off for a few weeks and we had to knock that rust off. But when he gets confident, he's a great shooter. He came out tonight confident."
Driver countered Gill's big shots with some plays of his own in the second, making two 3-pointers and consistently getting to the line. By halftime, both players had more than 10 points and the teams were locked at 28.
The break didn't cool down Gill as he scored 10 of the Bulldogs' 12 third-quarter points with nine coming from behind the arc. Driver and Creamer combined for eight in the quarter and the Wolves led 41-40 entering the fourth.
The game was tied at 46 with five minutes left when an errant Trion inbound pass led to a Rome layup on the other end. Driver then forced a turnover and scored layups on consecutive plays to push Rome ahead 52-46.
The Bulldogs (1-6) put together a small rally to cut the lead to 54-52, and Rome struggled at the line to give Trion its final chance. Gill's final attempt came at the top of the key but was short by about a foot.
Rome will play Calhoun in the semifinals of the tournament tonight at 8:30 at Berry College, while Trion is set for a consolation game today at 5:30 p.m. at Georgia Highlands against Armuchee.
Despite getting through with a win, Travis knows his team will need to play better to reach the tournament finals on Friday night.
"There are things we have to do better. We have to execute better and play hard," Travis said. "If we don't do those two things we are going to find ourselves not being who we should be."