BASKETBALL: Seniors share court 1 final time in NWGA Tip-Off Club's annual all-star games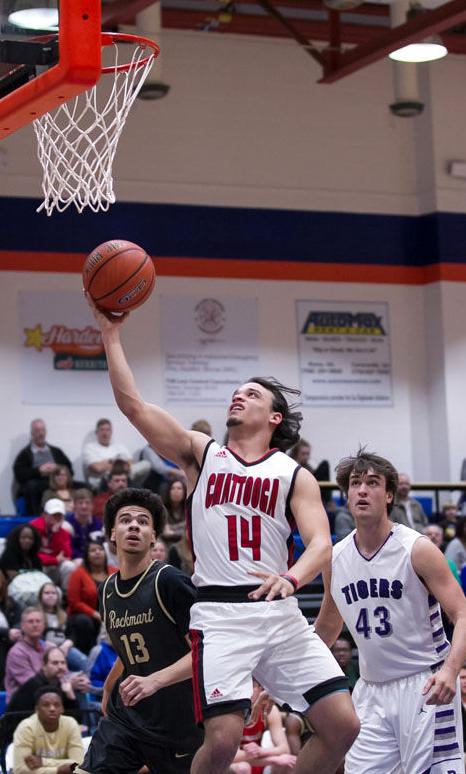 The end of any high school basketball season also means the end of the careers of many local seniors. But for one night at Georgia Highlands College, the best seniors got a chance to showcase their game while having a little fun as well.
Thursday's Northwest Georgia Tip-Off Club Senior All-Star Games saw nearly 50 players from around the area take the court in their school's uniform for one last go-round.
"It was just playing alongside the girls I've known since I was younger," Darlington's Anna Claire Atha said. "I've played these girls in recreation league, played middle school together, played travel ball together. So it's great to do it with them one last time."
In the boys' game, the home team won 103-99 as Chattooga's Isaiah Foster won the MVP award with 24 points. Armuchee's Drew Cummings made six 3-pointers and scored 20 points, all coming in the first half, and Calhoun's Chapin Rierson finished with 14 points.
The game came down to the wire with the home team finishing the game on a 12-3 run. It took the lead for good when Darlington's JT Mumber slammed home a put-back with 20 seconds left to make it 101-99.
The girls' game featured Calhoun's Jana Johns earning MVP, scoring 27 points and leading her team to a 77-67 win. Meanwhile, Atha scored 22 points and Model's Bailey Upton scored 13 points.
Beyond the scores, the entire experience of the games felt different than a normal region game in February. Players from rival schools suddenly found themselves on the same team, and playing under a few new rules.
The games were played under college rules, with a shot clock, six fouls to give and, for the boys, two 20-minute halves. The changes are done so that seniors planning to play in college can be better adjusted for the game.
The shot clock was little problem for any team playing, as the players had become accustomed to each other and wanted to run.
"It was so much fun playing with these guys. We had a few practices getting to know each other and we all really enjoyed pushing the ball," Foster said. "And the main thing was supporting each other, whether you were playing or you were on the bench."
There was no tension or adjustment when it came to playing with new players, as all four teams were more than ready to find the hot hand. At any moment, one player could take over the game and make a series of shots.
The team's coaches, like Unity Christian's Emily Claytor and Chattooga's Jared Groce, were more than pleased with the playing style and felt blessed to have such so much talent at every position.
"Tonight was truly just an awesome experience, just being around some of the best players in Northwest Georgia," Claytor said. "It was a different game from what any coach would see, but just all-around a great night."
In between games, both the girls and boys competed in a three-point shooting contest. Armuchee's Anna McBurnett won the girls' contest with 10 made shots in 20 seconds, while Coahulla Creek's Tyler Phillips won the boys with eight 3-pointers.
But win or lose, nearly every player at Georgia Highlands left with a smile on their face. Their high school careers may have ended, but they got another opportunity play a game they love in their old jersey.
"These seniors have worked hard, most of them have been playing since they were five or six years old," Groce said. "And for some of them it's the last opportunity to have a little fun out on the court."