BASKETBALL: Oakwood Christian earns split in Tennessee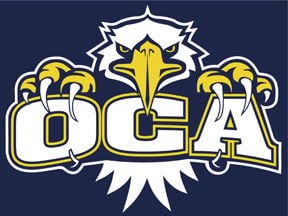 The Oakwood Christian Lady Eagles improved to 4-5 overall after a big 47-23 road victory at Maryville (Tenn.) Christian School.
It was a balanced effort for OCA, who got 10 points, 16 rebounds and four steals from Annika Green and 10 points and three blocks from Kylie Hall.
Tori Hall had eight points, 11 rebounds and five steals. Madi Phillips finished with eight points and three steals, while Mary Catherine Ownby filled up her stat sheet with four points, seven boards, three blocks and a pair of steals.
Maryville Christian boys 81, Oakwood 56
Matthew McDonough had 22 points in the nightcap, but it wasn't enough to get the Eagles (6-6) the win against the SCAA stalwarts.
Woody Hass picked up six points, while Garrison Baggett, Zack Cohen, Phillips Davis, Andrew Phillips, Cory Taylor and Tyler Epperson all had four points.
Oakwood Christian will host the home-school based Chattanooga Patriots on Thursday. The varsity game will start at 5 p.m., followed by the junior varsity boys' game and the varsity boys' game.
Both varsity teams will play at Tennessee Christian Prep School Friday at 6 p.m.