BASKETBALL: Lady Eagles even up record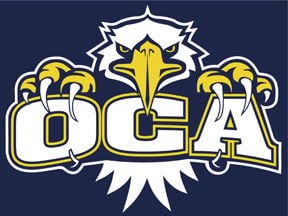 The Oakwood Christian Lady Eagles got back to .500 on the year with 45-40 home victory over the Chattanooga Lady Patriots on Thursday night.
Kylie Hall hit four 3-pointers and finished with 12 points for Oakwood (5-5). Annika Green had 11 points and grabbed 16 rebounds, while Mary Catherine Ownby had 10 points and six boards.
Chattanooga Patriots 65, Oakwood Christian 52
In the nightcap, the Eagles dropped to 6-7 on the season after failing to recover from a 39-26 halftime deficit.
Matthew McDonough had 28 points in the loss, followed by Zack Cohen with eight and Woody Hass with seven. D.J. Terry dropped in three points, while Garrison Baggett, Tyler Epperson and Cory Taylor had two points each.
Both OCA teams will be in action on Friday at Tennessee Christian Prep School, starting at 6 p.m. The Oakwood boys will also be making up their game at Christ's Legacy Academy on Monday, Jan. 16.