BASKETBALL: Darlington's Stewart and her senior teammates will be recognized tonight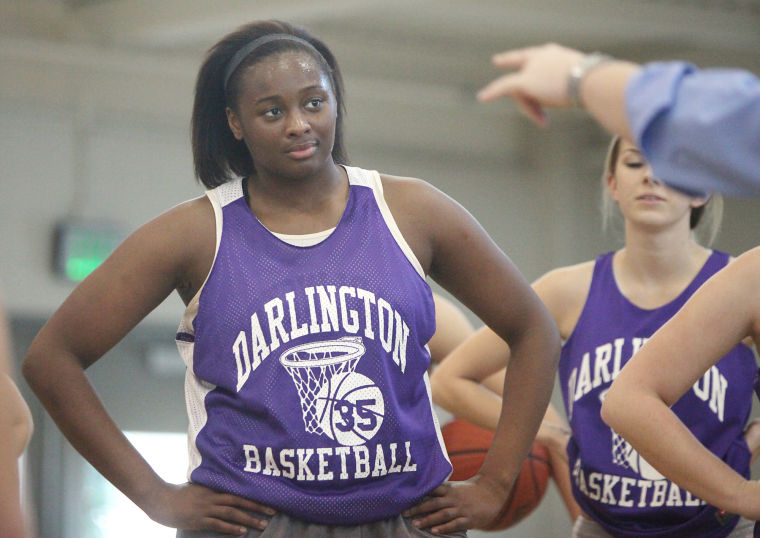 Darlington senior Terar Stewart, who became the school's all-time leading female scorer this week, has made it clear that she doesn't enjoy all the attention she's been getting in recent days.
Tonight, Stewart will be thrust into the spotlight yet again — but at least this time she will have plenty of company.
Stewart is one of a half-dozen seniors on the Darlington roster who will be recognized during the team's Senior Night festivities at the Huffman Center, where the Lady Tigers are hosting Excel Christian.
The six seniors — Bailey Brock, Remy Jennings, Mary Grace Denson, Jane Campbell, Sidney Stout and Stewart — have helped Darlington put together a highlight-filled season.
The Lady Tigers, coached by Josh Hembree, have been ranked among the top five teams in the state for much of the year.
Along the way, they have notched victories over local rivals Model, Rome and Armuchee, along with a win over Southwest Atlanta Christian Academy when they were ranked No. 1.
This season's success has been the continuation of a dominating run by the Darlington squad, which advanced to the Elite Eight last season, and made it to the Sweet 16 in 2011 and 2009.
Stewart has certainly played a key role in the success, even if she is hesitant to admit it.
She became the program's all-time scoring leader on Tuesday night during a win against Mt. Zion. Stewart finished with 17 points, giving her 1,625 for her career to surpass Caroline (Peek) Blaylock by one point.
In typical fashion, Stewart pointed the praise toward her teammates.
"It feels good (to break the record)," Stewart told the RN-T that night, "but once again I'm coming back to the team, because I wouldn't be able to do it without them."
Tonight, she and the other seniors will play their final regular-season home game at the Huffman Center.
The girls game begins at 6 p.m., and the boys play at 7:30.
Here's a quick look at the other match-ups tonight, and a few of the subplots to keep an eye on:
PAULDING COUNTY AT ROME: The Rome girls and boys will be celebrating Senior Night, and looking to continue to build momentum for the postseason.
Although the Wolves and Lady Wolves were swept by Allatoona on Tuesday, both Rome teams have played well recently.
The Lady Wolves have won three of their past four games, and the Wolves have won five of their last eight.
The Wolves gave powerhouse Allatoona a stiff test on Tuesday night before eventually suffering a 52-45 loss.
The Rome girls received a scare earlier this week when the Dupree sisters — Astri and Tassie — were involved in a car wreck on Monday night.
Neither player was seriously hurt, according to school officials, and both are expected to be in action tonight.
Astri was in the lineup on Tuesday night, and turned in a 27-point, 13-rebound effort.
MODEL AT CHATTOOGA: The Model boys have been on an emotional roller coaster in the past seven days. They won a thriller over rival Armuchee last Friday and then suffered a one-point loss to Dade County on Tuesday.
Tonight, the Devils (11-8, 5-4) will be looking to complete a season sweep of Chattooga (4-13, 1-7) after beating the Indians 74-62 on the road on Dec. 14.
The Model girls come into tonight's game on the heels of a gritty 43-33 victory over Dade County on Tuesday night, which was their seventh win in the past nine games.
Timia Reynolds scored a game-high 18 points in the victory, and Carla Clemmons, who has been hampered much of the season by a back injury, added 11.
The Lady Devils (15-5, 7-2) will be without post player Caroline Long (ankle injury).
NOTE: The starting time of tonight's girls game has been moved up to 5 p.m., with the boys to follow at 6:30 p.m.
CALHOUN AT PEPPERELL: The Peppe-rell teams will have a tough assignment tonight in Lindale against the region-leading Calhoun teams.
The Pepperell boys (7-9, 4-4) will carry a three-game losing streak into the game after they opened region play with four wins in their first five games.
The Pepperell girls (10-9, 3-5) are coming off a lopsided win at Coosa in which both Elizabeth Davis and Leah Rowell returned to action after missing several games with injuries.
Tonight's games in Lindale will be the second meeting between the teams in less than a week.
Last Saturday, the Calhoun girls (9-0, 17-1) rolled past Pepperell 59-24, and the Calhoun boys (8-1, 12-3) completed the sweep by putting together a big second half rally for a 62-47 win over the Dragons.
ARMUCHEE AT DADE COUNTY: After enduring a series of close losses, the Armuchee boys earned their first region win on Tuesday night by blasting Murray County, 87-63.
Tonight, the Indians (3-15, 1-8) will be looking to build on that against a Dade County team that is traditionally very tough to beat in Trenton.
The Lady Indians (10-9, 6-3), meanwhile, are hoping to extend a hot streak that has featured four wins in their past five games.
The surge includes a victory over rival Model last week, which was the Lady Indians first win over their rivals since 2010.
If they can post a win tonight, the Lady Indians, who are in third place in the region, will own a three-game lead over fourth-place Dade County.
NOTE: The starting time of tonight's girls game has been moved up to 5:30 p.m., with the boys to follow at 7 p.m.
MURRAY COUNTY AT COOSA: The Coosa boys (11-6, 5-3) have surged into a second-place tie in the region by winning three of their past four games. They have a half-game lead over Murray County, which is tied with Model for third place.
Christian McFather and Isaac Bradley have led the way during Coosa's recent push, and they combined for 30 points in Coosa's 49-48 win over Pepperell on Tuesday. (Bradley had 16; McFather 14).
The Coosa girls downed Chattooga last Saturday for their second region win, but lost to Pepperell on Tuesday.