BASKETBALL: Chattooga holds off rallying Jackets for 7-AA title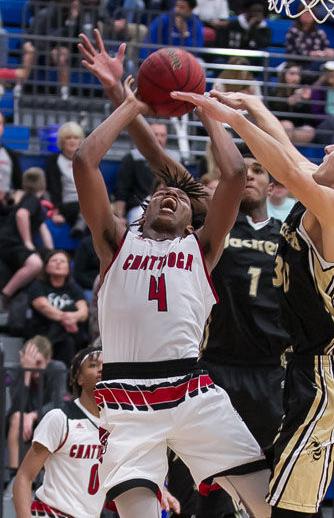 The changes both Rockmart and Chattooga went through in the offseason may have left some to wonder if the Region 7-AA boys' basketball teams could keep any of their momentum from last year.
After making it back to the region championship game, the two programs had made an impression, but the Indians found the right mix to once again overtake the Jackets on Saturday and win 69-56.
Chattooga's second region title in a row came after the Indians were forced to refocus after leading 23-6 at one point in the first half as Rockmart returned from halftime more aggressive on offense.
The Yellow Jackets got as close as seven points early in the fourth period, but Chattooga stood tall at the line, hitting 12-of-14 free throws in the final quarter to pull away.
Saturday's contest, held at Model High School, came a week after Rockmart handed Chattooga it's only region loss during the regular season. Both teams lost some key players to graduation after last year and the Jackets are led by first-year head coach Steve Luke.
Malachi Mack and Devin Price kick-started the game for the Indians as Price hit three field goals and Mack went 4-of-6 at the line to help their team get a 12-4 lead after one. Jatorrian Williams hit four 3-pointers in the second period as Chattooga's lead grew and Rockmart searched for a way to get back in the game.
That chance would come after the break as eight Jackets would score 24 points in the third period, including 3's from Logan Burge and Javin Whatley to begin to close the gap. But Chattooga still held a 38-49 lead after three and the Indians were able to hold off Rockmart down the stretch.
Mack and Price both led all scorers with 16 points apiece. Mack was 10-of-14 at the line and scored 10 in the fourth period. Williams finished with 13 points, and Jamarious Mosteller added 10.
Rockmart's Juke Boozer paced the Jackets with 11 points, while Burge had 10, six of which came in the fourth.
Both teams will host the opening round of the Class AA state playoffs next weekend with opponents and times to be determined.