BASEBALL: Phoenix rally from four-run deficit for big region win over Adairsville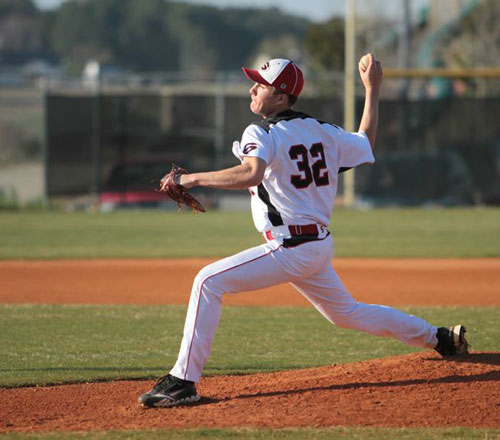 After falling behind 4-0 on Thursday, the Sonoraville Phoenix never got down. In fact, they raised their game a few levels.
And that helped them rally for a clutch 6-5 region win at home over Adairsville.
The Tigers scored four runs in the third to take the lead, but the Phoenix (5-7, 3-1) got one in the bottom of the third, three in the fourth, one more in the fifth and then the big one in the sixth which would prove to be the game-winning run.
"Adairsville came out ready to play today, and Drew (Wilson) really didn't have his best stuff on the mound," said Sonoraville coach Deron Walraven. "They got that lead, and we could've run and hid, but we got it together and did what we needed to do.
"That was a great overall win, and it's exactly what we needed."
One of, if not, the biggest hit came off the bat of Brevin Harris in the sixth with the game tied 5-5. After Clark Johnson singled to lead off the inning, Ryan Gross bunted him to second. That's when Harris came up and delivered in the clutch, sending a single through the left side of the infield and chasing home Johnson for the game-winning run. The Phoenix would strand a pair of runners to end the frame, but it wouldn't matter as Patrick Thurman sat down Adairsville in order in the seventh to seal the game.
"Clark got on, Ryan got the bunt down, and Brevin, who's played great all year for us, got that big hit," said Walraven. "It was huge for us to go into the seventh with the lead. And when Patrick throws strikes, he's hard to hit. I told him when he went in if he pitches like he's capable, they're not going to do anything against him. And he pitched well to get his first varsity win."
"It's great to see these kids have success like that after knowing how hard they've worked."
Thurman came on to work the final two innings, allowing no runs and just one hit while striking out two to earn the win in relief. He also had two hits at the plate and a run scored from the leadoff position.
Drew Wilson worked the first five innings, and other than the one tough frame in the fourth in which he gave up four runs on five hits, he was solid. He allowed just one run on five hits while striking out three in his other four innings of work.
Wilson also made up for it at the plate, going 2-for-3 with a two-run homer. Johnson added a solo homer to go with his single in the sixth. Griff Bryant had a hit and an RBI, and Thad Harris had a double and a run scored.
"Those two homers got us going at the plate," said Walraven. "We got a little confidence and hit the ball hard after that. We've seen some great pitching this year so it's nice to see us swing the bats like we did today."
For Adairsville (7-6, 1-3), Shawn McDermott had two hits and two RBIs to lead the offense. Tristan Smith had two hits and an RBI, Hunter Smith had two hits and Collin Bearden had a hit and an RBI.
Walraven said it was a good sign to see his team come back the day after a tough loss to Ringgold and play as well as they did.
"This was a big game for us," said Walraven. "Last night (against Ringgold) we certainly had our chances, but to get over that one quick and beat a good Adairsville team today was big.
"I like our chances with what we're putting out there. We've got a chance to win every time we go out on that field."
The Phoenix are off to a solid start in region play as they look to get back to the state playoffs this season after making their first-ever appearance there in 2013.
Sonoraville is on the road Friday at Cartersville; Adairsville returns home to host Ringgold.