BASEBALL: New coach, same aggressive philosophy at LaFayette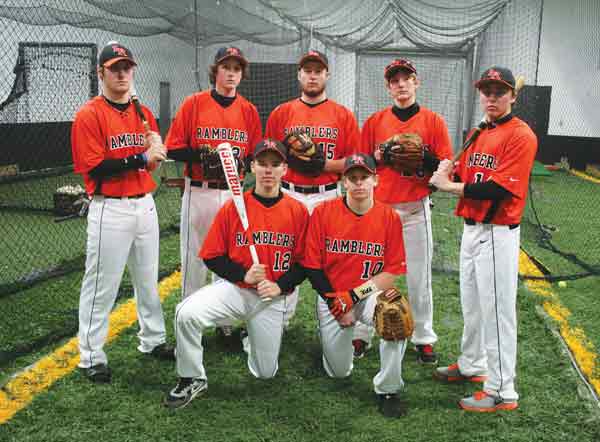 The LaFayette Ramblers will have a new skipper on the bench this season, but don't expect too many other things to change in south Walker County this season.
Former Coosa High head coach Mike Shank is now in charge of the program, but his style of coaching will be very similar to what Rambler fans have been used to in past seasons.
"I like to be aggressive on defense and offense," he explained. "I like to move base runners around. I like to swing the bats and keep it a fast-paced game. I don't want things to slow down so kids don't lose focus.
"I'm a firm believer that the more pressure you put on an opponent, the more likely they will be to make mistakes and the more successful you're going to be."
If that philosophy sounds familiar, it should. It's the same baseball philosophy taught by LaFayette's previous two coaches, Dan Torrenti and Mike Dunfee. Dunfee is now the head coach at nearby Gordon Lee, while Torrenti left after last season to coach his alma mater, McEachern.
"When I came here, the program had been in good hands with Coach Torrenti and Coach Dunfee before him," Shank said. "I didn't want to come in and shake up or change things too much because it wasn't a bad situation here. It's been a great transition. I have to give a lot of credit to Coach Torrenti, the players, and their parents for helping it go so smooth."
Shank's first team will feature a senior class that goes eight-deep, along with a handful of younger players that saw significant action last season.
Rightfielder McKenzie Kelehear leads the senior class. A left-handed hitter with good pop in his bat, Kelehear may also see time behind the plate this season.
Shank calls shortstop Micah Wyatt 'a good ol' country kid'. Wyatt is one of the team's leading returning hitters and one of its aces on the hill.
Left-handed hitting first baseman Josh Manning missed most of last season while recovering from leg surgery, but is back to give the Ramblers power on the corner and another solid arm in the rotation, while Shawn Daniel will likely back-up Manning at first base after seeing limited varsity time as a junior.
Second baseman Brennan Gray is solid with the glove and has improved at the plate after an off-season's worth of work in the batting cages. Brice Cleverley will likely get the starting nod at third base, and will be a part of the pitching rotation in his final season.
The final two seniors include outfielder Walker Wood and utility infielder Mason Thompson, a transfer from Trion High School, who will hit in the middle of the order.
"They are all a bunch of great kids," Shank said of his seniors. "They work hard and dedicate a lot of their time to the weight room, the off-season stuff, and early practices."
LaFayette will not have a junior on this year's roster, but they return three sophomores, two of which saw more than their share of innings as freshmen.
Andy Boss will return to start in centerfield for a second straight season. Boss covers a lot of ground in the field and is one of the team's better power hitters.
Harrison Queen is looking to lock down the starting spot in leftfield after serving as a pinch and courtesy runner last year.
Behind the plate, Evan Head will see significant action. Head, who played a lot of travel ball in the off-season, has impressed Shank with his bat and strong arm.
Freshmen who could see some varsity innings this season including Clayton Lane, Brandon Buck, and J.T. Snider.
Matt Brooks, Matt Yarbrough, Jerry Quinn, and Brad Beck will serve as assistant in Shank's first season at the helm.
Even though he coached in Class AA last year, it hasn't taken long for Shank to understand and appreciate the balance and depth in Region 7-AAAA this season.
"I think it's much more evenly matched, top-to-bottom," he said. "I think any team can beat anyone else at any given time. I know a lot of the coaches (in the region), and I respect them and what they do with their programs. They all have some really talented players, and I'm looking forward to competing against them. There are going to be a lot of exciting games."
While the region playoffs are still nearly three months away, Shank says his team can only afford to look at what he calls 'the next 200 feet in front of us'.
"We can't afford to look down the road toward the playoffs," he added. "Our focus has to be on what's happening now. Tonight, it's the scrimmage with Pepperell, and after that, it's the season-opener at Coahulla Creek on Tuesday. Pitching, hitting, and defense are all part of the game, but focusing is what we have to work on the most."
LaFayette is set to scrimmage at home against the visiting Dragons at 5:30 p.m. today (Friday, Feb. 15), before opening the 2013 campaign at Coahulla Creek on Tuesday at 5:30.