Baseball: Heritage sweeps Cedartown to advance to state, will play at Redan on Friday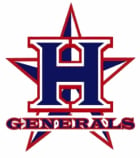 The Heritage baseball team advanced to the Georgia Class AAAA State Playoffs following a sweep of Cedartown, 4-3 and 5-1, on Thursday, April 25.
The Generals won the first game on a walk-off, one-out, bases-loaded single by pitcher Austin Morris in the bottom of the seventh inning. Morris pitched a complete game for Heritage and allowed one earned run.
Heritage got off to a strong start with a two-run homer from Lee Gibson in the first inning.
The Navy-and-Red carried over its momentum into game two by scoring four runs in the first two innings behind the pitching of Dalton Belk, who got the win.
Morris smacked a two-run double in the bottom of the first inning. Jarred Porter then roped a two-out, two-run single in the second inning and added an RBI single in the fourth inning to extend the Generals lead to 5-0.
Heritage defeated River Ridge, 4-2, on Friday to determine who they will be the No. 3 seed from 7-AAAA state playoffs, slated to start on Friday, May 3.
Heritage head coach Eric Beagles said he couldn't say enough about his team for their performance on Thursday.
"We were fortunate to win the first game the way we did (against Cedartown)," he said. "It was good to get that home run early and get a few more runs. I'm real proud that we didn't crumble when they tied it up in the top of the seventh inning. We came back and made some things happen and got the upperclassmen to the plate with the bases loaded. Austin (Morris) got a good pitch to handle and was aggressive with it."
Beagles commended Morris for his pitching efforts in game one and Dalton Belk's for his pitching performance in game two.
"We had a great day pitching," Beagles said. "We played good defense behind them. We turned a few double plays and Porter's catch in the outfield to end the ballgame was also huge."
Gibson, who belted his third homer of the season in the first game, said he expected a tough series against Cedartown.
"We've been playing well as a team so I knew if we could string a few hits together and execute we would do well," he said.
Morris said he was glad he could help his team get to the state playoffs.
"I was just trying to put the ball in play with the bases loaded and one out," he said. "I knew if I put the ball in play something good would happen."
Colby Chattin, who handled the catching duties for the day and had several hard hits that were caught by the Bulldogs, said he was ready to make a run in the state.
"There's not really any words to describe how excited we are," he said. "There's not really one in particular person that made this happen. This is what happens when you play as a team.
The Generals will play a two-of-three game series on Friday, May 3 at Redan.