ALL-AREA VOLLEYBALL: Coosa's Taylor Roberts named 2017 RN-T Player of the Year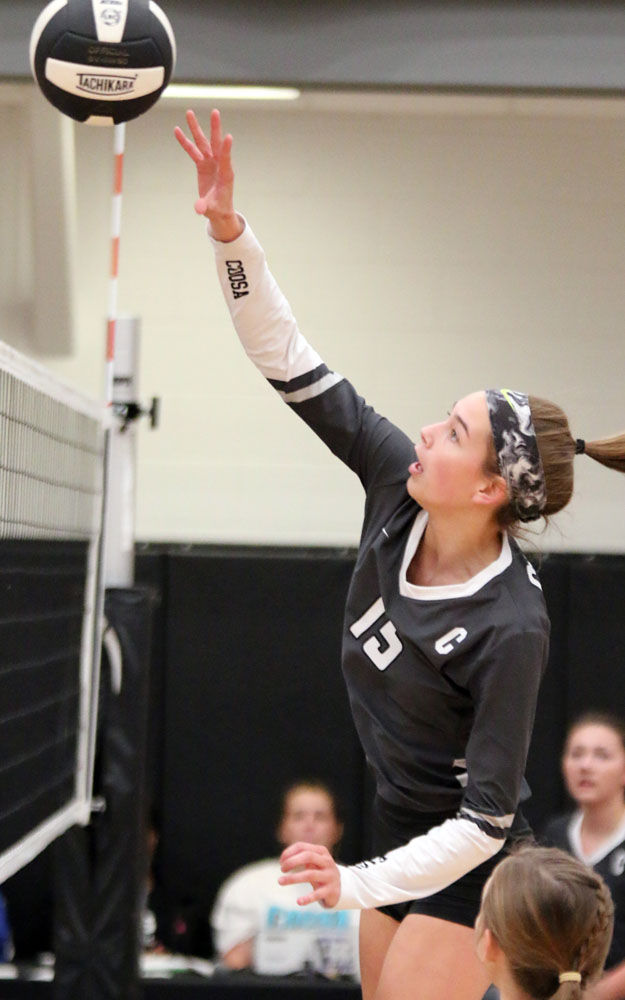 Their ultimate goal set from the start of the season, the Coosa Lady Eagles took a business-like approach to every point on the way to a Class AA volleyball state championship.
But they also made sure to inject some fun into it by keeping a loose vibe and a familial bond that took over when the final whistle blew.
For all of these traits, a floor manager was needed who could maintain composure and focus when a match was on the line as well as lead the cheers for a point well played.
That role fell to Taylor Roberts this season, and she performed it well, both on the court and in the record books, leading to her being named the 2017 Rome News-Tribune Player of the Year
The 6-foot-1 middle blocker wrapped up her senior season as one of the most decorated players in Coosa volleyball history.
She was not only named the Area 3-AA Player of the Year, but also the Georgia Volleyball Coaches Association Class AA Player of the Year, the first public school player to be awarded the honor.
Roberts led the team with 16 kills in the state championship match against St. Vincent's Academy and also had three blocks and nine digs.
"I can honestly say that she had a huge part in leading the team to the AA State Championship this season, as she is one of those leaders who are so easy to follow," Coosa coach Nic Hann said earlier this season.
"The rest of the team looks up to her because she leads by example."
Roberts only improved in every single category for her final turn with the Lady Eagles, including breaking her own records for most kills and blocks in a single season in Coosa history with 566 and 174, respectively.
She also had 137 aces and 306 digs, solidifying her status as one of the top all-around players in the state. Yet she commented that she still needs to improve after signing to play Division II at Emmanuel College last month. But she also said her senior season only amplified her love of volleyball.
Roberts leads a contingent of five total Coosa players on this year's RN-T All-Area first team, which includes three Lady Eagles who are only sophomores.
"Getting to play with these girls is the most amazing feeling. They are all so friendly and we've become a family. Watching them grow up on the court and get better does nothing but make me feel more confident about the future of the team," Roberts said.
"She has poured her heart and soul into this program over the last four years, and she has made an impact on so many players and coaches along the way," Hann said. "I am so thankful for what Taylor has done for this team."
2017 Rome News-Tribune All-Area Volleyball Team
It didn't take a state championship for area volleyball fans to know that Coosa was a top contender, and Hann has been a big part of the Lady Eagles' rise. With the help of his assistants, Hann had Coosa's girls prepared for each challenge as they swept their way through the playoffs and to the Class AA title.
First Team
Bata only improved in her sophomore season with the Lady Indians, leading the team in kills with 164. The 3-AA All-Area Team selection also led the team in blocks with 52.
A libero on the Lady Eagles' team, Barker recorded a Coosa single-season record 523 digs and 84 aces in her junior season and was named to the Class AA All-State Team by the Georgia Volleyball Coaches Association.
Serving as the core leader for the Lady Wolves this season, Davis earned 7-5A All-Area honors and had an astounding 626 digs in her junior season to go with 67 aces.
Chattooga sophomore Deberry concluded her second-straight all-state season with 438 digs, 88 assists and 46 aces as the Lady Indians reached the second round of the playoffs.
Kristina Groux, Unity Christian
Groux continues to prove her athleticism as the junior outside hitter for the Lady Lions averaged 4.7 kills per set and had 198 digs for the GICAA North Region champions.
The senior was once again a reliable force for the Lady Tigers as they fought their way through the highly-competitive Class A landscape, coming up short in the opening round of the playoffs.
Annie Morgan McGraw, Chattooga
An All-State selection as a junior, McGraw was impressive at outside hitter for the Lady Indians, finishing with 245 kills and 120 aces while matching up against opponents from the tough Area 3-AA.
The younger sister of POTY Taylor Roberts, Jordan Roberts is coming into her own on the Lady Eagles' team with 266 digs and 176 kills in her sophomore year, as well as 57 aces and 55 blocks.
Another stellar sophomore for Coosa, Smith has already recorded her 1,000th career assist and set the school single-season record with 1,076 this year. The setter also had 118 aces and 172 digs while being named to the AA All-State Team.
The youth movement for the Lady Eagles wraps up with Thacker, who was a force at the net along with Taylor Roberts. The All-State sophomore tallied 330 kills, 70 blocks and 398 digs while serving 115 aces.
BrandyAnn Wacker, Armuchee
A four-year starter for the Lady Indians, Wacker provided leadership for Armuchee's best season in program history while recording 162 kills, 74 serving aces and 175 digs.
Second Team
Caroline Heathcock, Chattooga
Chynah Johnson, Ga. School for the Deaf
Bridgette Jones, Armuchee
Callie Maffett, Darlington
Mary Nance, Unity Christian
Honorable Mention
CEDARTOWN: Rachel Helmes, Emily Prewett; CHATTOOGA: Caitlin Satterfield; COOSA: Gracie Shumate; DARLINGTON: Alli Hagler, Lizzie LaVangie; GSD: Zariah Clay; MODEL: Brooke Roberts; PEPPERELL: Hannah Newberry; ROCKMART: Kinsley Woofork.