ALL-AREA SOFTBALL: Loveless named RN-T Player of the Year, All-Area team announced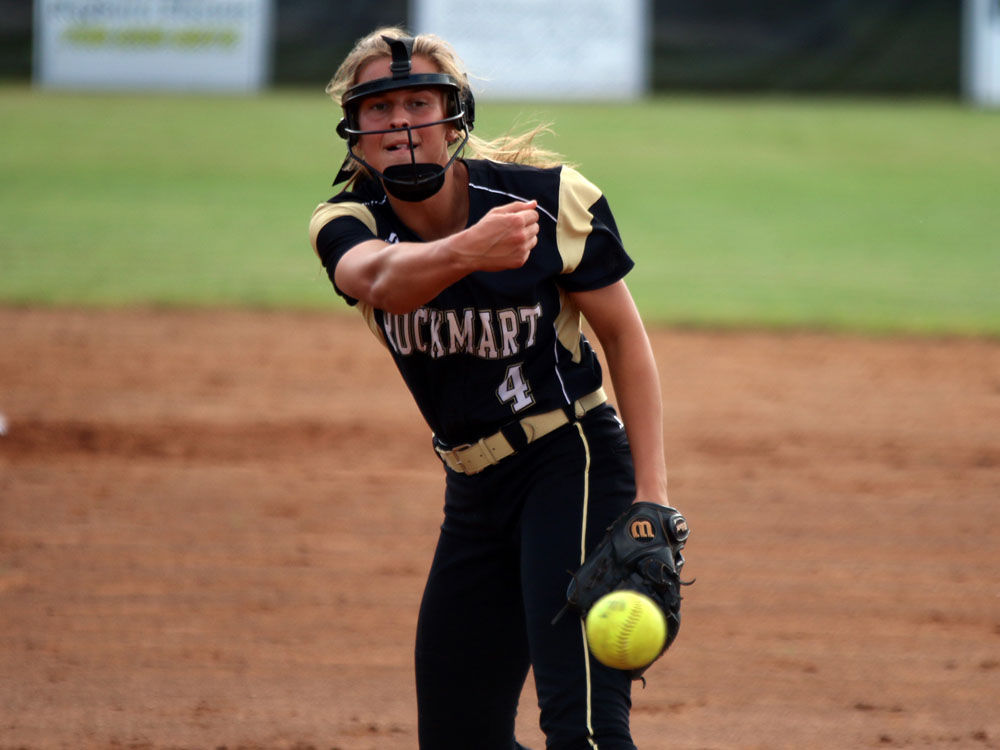 For the Rockmart softball team to win its first ever state title, it needed more than just one standout player.
Every step, from the start of the year to region play to state tournament in Columbus, required players to make a play when called upon.
But through all of the Lady Jackets' wins, Emily Loveless had her imprint on nearly every one of them, because if she wasn't contributing to the win on the mound, she was almost certainly doing it at the plate.
"She's simply a complete player," Rockmart coach Steve Luke said. "Right now, she is probably somewhere at a pitching lesson. She works hard every day, stays humble about everything. All of her stats improved this season, and that just speaks to how hard she works every day."
Loveless is the Rome News-Tribune All-Area Player of the Year for the second year in a row, this time coming off a state championship. The award is no surprise to Luke, who has seen the same competitive spirit from Loveless since she joined the team.
The junior posted a 2.12 ERA through more than 118 innings pitched this season, recording a 19-2 record along the way.
At the plate, she led the team with eight homers, 53 RBIs and 24 extra-base hits, while finishing second on the team with a .464 batting average.
Those numbers might be even better for Loveless's senior season in 2018 considering her work ethic.
"Offensively, she had an incredible year, but she probably feels she could've played better," Luke said. "She is always looking for a way to get better. I could tell her today that she was named player of the year, and she would probably shrug it off and keep working."
One of the best games on the mound for Loveless came at a crucial time for the Lady Jackets. With a shot at a spot in the Class AA state championship game on the line, the junior allowed one hit in seven innings in a 1-0 win against Monticello.
The next day, while playing third base, Loveless tallied three RBIs in Rockmart's 9-7 state title-winning game against Monticello.
"That was the best game I've ever seen her pitch. She hit every single spot," Luke said. "Then to see her hit in the championship game while Carlee Graham pitched, it was just fun to watch."
Despite only being a junior, Loveless is already committed to Reinhardt College to play third base. Rhinehardt went 43-15-1 last season, winning its conference and making the NAIA National Championship.
2017 ROME NEWS-TRIBUNE ALL-AREA SOFTBALL TEAM
Coach of the Year: Steve Luke, Rockmart
Guiding the Lady Jackets to a Final Four appearance last year, Luke kept his young group of top talent working hard this season leading to the program's first ever state championship and a 35-2 record.
FIRST TEAM
Player of the Year: Emily Loveless, Rockmart
Erin Carney, Armuchee
Carney was the constant for Armuchee's squad, keeping a 2.45 ERA despite starting almost every game for the Lady Indians. She racked up 136 strikeouts on the mound, and was fourth on the team with 16 RBIs at the plate.
Caroline Conring, Rockmart
Another weapon in the Rockmart armada, Conring was typically in the middle of the lineup for her team. The sophomore had a .433 batting average with 44 RBIs, second best on the team.
Anna Cowan, Pepperell
Cowan was the player the Lady Dragons went to both on the mound and at the plate. She registered a 2.41 ERA with team-leading 54 strikeouts, and then led the team with 37 hits and a .407 batting average.
Kelsea Elrod, Rockmart
One of the few seniors on Rockmart's state-title winning team, Elrod owned a .430 batting average with 47 RBIs. She possessed both speed and power, recording 23 stolen bases and six home runs.
Carlee Graham, Rockmart
Graham was a major part of a Rockmart team that routinely scored in the double-digits. She possessed a .349 batting average and five home runs, including two home runs in the Region 7-AA title game against Dade County.
Sydney Marshall, Chattooga
Marshall was a clear force on Chattooga's squad, batting .405 with 18 RBI. Her speed was on display throughout the season, whether it was in the outfield or one of her eight stolen bases.
Savannah Poole, Armuchee
While helping Carney throughout the game as her catcher, Poole also served as Armuchee's best power hitter. The senior recorded a .319 batting average and led the team with 15 extra-base hits and 36 RBIs.
Sydney Seymour, Darlington
The junior was the main offensive weapons for a Darlington team that made the second round for the second straight season. She led the team with a .450 batting average and 16 extra-base hits, including two home runs.
Cambree Stanley, Rockmart
Stanley was the perfect player for Rockmart to have at the front of its lineup, racking a .473 batting average and 46 stolen bases. She only recorded three extra-base hits all year, but her 50 singles were exactly what the Lady Jackets needed.
Baylee Wright, Pepperell
When Cowan was not on the mound, Wright took her place, posting a 9-2 record with a 1.91 ERA. When Cowan was on the mound, Wright shined at second base and batted .395 while recording 28 RBIs.
Shayla Youngblood, Trion
Youngblood was constantly finding the base for the Lady Bulldogs, posting a .430 batting average. She wasn't done once getting on base, as she recorded 19 stolen bases and a team-leading 35 runs scored.
SECOND TEAM
Shelby Carlock, Trion
Caroline Dingler, Darlington
Abby Hosmer, Chattooga
Kinsey Jones, Rockmart
Kassidy Kinsey, Armuchee
Kaylee Mansell, Pepperell
Josi McKibben, Darlington
Alexas Poole, Cedartown
Whitney Shepherd, Trion
Livia Skinner, Armuchee
Ziyah Underwood, Chattooga
Lily Watson, Armuchee
HONORABLE MENTION
ARMUCHEE: Karson Fallin. CEDARTOWN: Tamera Beeman, Jameia Diamond, Laura Ashlee Tillery, Madison Wigley, Mackenzie Youngblood. CHATTOOGA: Rose Jones, Alex Mitchell, Hannah Thrasher. COOSA: Aniston Parris, Lainey Sims. DARLINGTON: Olivia Adams, Ellie Gillis, Kathryne Ledbetter. MODEL: Kayleigh Carney, Madison Leonard, Hannah Reynolds. PEPPERELL: Maddie Clay, Sydnie Edwards, Grace Hufford, Josie McGraw, Maycy Owens, Dahlia Sanford. ROCKMART: Emma Evans, Anna Lewis, Emilee Maulding. ROME: Abi Curry, Carlie Filetti, Riley Jenkins, Mackenzie McNitt, Justyce Moore. TRION: Gracie Burns, Bailey Coker, Janie Emery, Jodie Henderson, Darrian Jones, Josie Maddux, Chloe Murdock, Whitney Shephard.