PREP FOOTBALL: Anderson, Whatley finalize college choices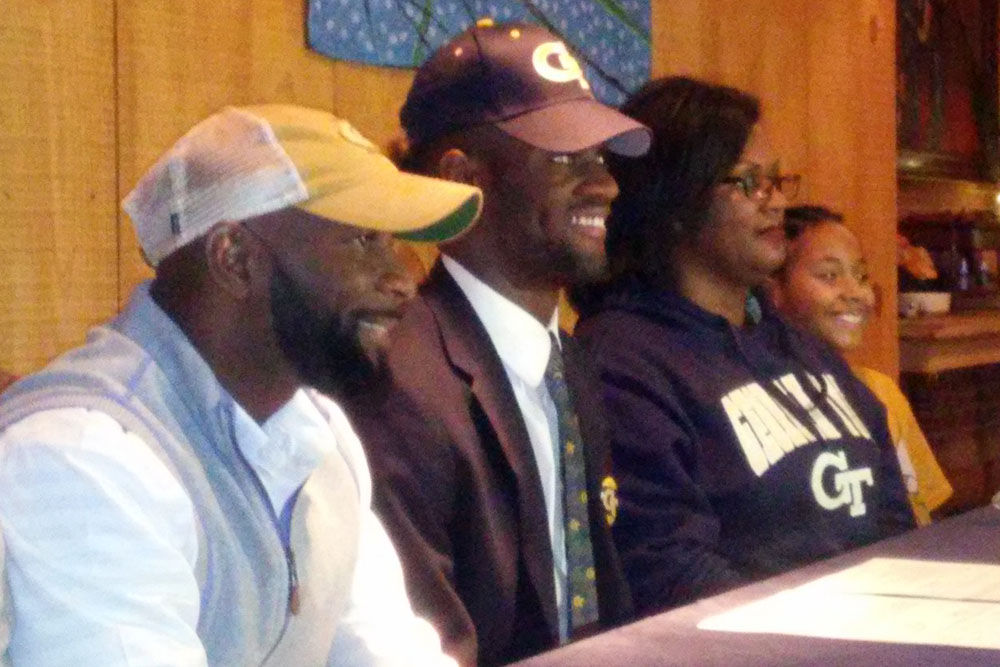 The memories of their final high school football season still fresh in their minds, a group of local players turned to the future Wednesday and set their college plans in stone.
Four local senior prospects put ink to paper on the first day of the NCAA's new early signing period, which lasts through Friday. All of them signed National Letters of Intent with Division I schools.
Rome defensive end Adam Anderson made good on his commitment to the University of Georgia, while Darlington running back Tijai Whatley completed his recruitment by Georgia Tech.
Darlington tight end Jacob Hunt and defensive lineman Elijah Ball both signed with FCS schools; Hunt with UNC-Charlotte and Ball with Wofford.
"I was a fan of the early signing because I knew once I committed I wanted to be done with it," Whatley said Wednesday at his signing event at Harvest Moon Cafe. "I had some coaches still kind of come after me, so it kind of feels good now to be done with the whole recruiting process and settle in with Tech now."
Whatley, 6-foot-2, 190 pounds, committed to the Yellow Jackets in June and focused on his senior season. He ran for 1,502 yards on 238 carries, an average of 6.3 yards per carry. He finished with 2,104 all-purpose yards and 27 total touchdowns.
Whatley was named this season's Region 6-A North Offensive Player of the Year.
"Every visit I had at Tech was amazing," Whatley said. "Meeting the academics and getting to know the players and the coaches, the city. I fell in love with everything about it. It really set it apart from everywhere else."
Anderson, 6-5, 210 pounds, took part in a special early signing day event Wednesday at Sports and Social at The Battery next to SunTrust Park.
Considered the No. 2 prospect in the country at outside linebacker, Anderson had 23 tackles for losses, 13 sacks and 77 total tackles prior to Rome's 38-0 state championship win over Warner Robins last Friday.
The 2016 Rome News-Tribune and Class 5A Defensive Player of the Year, Anderson was part of the top defensive line in the state.
Rome allowed only 9.5 points per game in an undefeated 15-0 season that included nine games holding opponents to a touchdown or less.
At 6-4, 255 pounds, Hunt served as a battering offensive lineman/receiver for the Tigers. He had 19 receptions for 231 yards and four touchdowns this past season.
Ball is a versatile lineman who was a consistent factor up front for Darlington at 6-3, 285 pounds.