GHC BASKETBALL: Ready to dance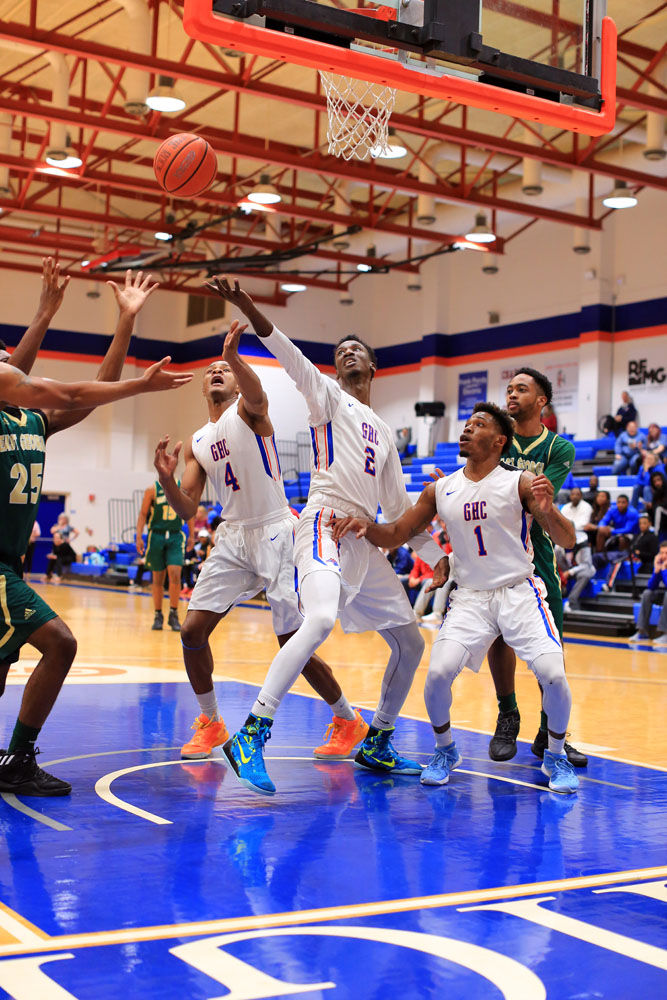 The arrival of March means the arrival of postseason play throughout college basketball. And once again, the Georgia Highlands Chargers are showing off their fast-paced style to anybody who dares to challenge them.
GHC opened up the postseason with a simple 103-68 win against East Georgia State in the first round GCAA tournament Tuesday at Georgia Highlands. It was the perfect preview of what the Chargers can do in the postseason.
"This is exactly the kind of game you want early in the postseason," GHC coach Phil Gaffney said. "A 30-point win, everybody plays about 20 minutes, nobody gets hurt, and everybody is ready to go for the next one."
Chargers forward D'Andre Bernard and guard Ty'Lik Evans each recorded 21 points, with Evans making four 3-pointers. Kamar McKnight recorded 13 points with three 3-pointers, while Antonio Wade also reached double figures with 11 points.
The game was close for the first 12 minutes before GHC went on a 20-5 run. The Chargers (30-1) beat the Bobcats like they beat so many others — outlasting them with an up-and-down style that forces turnovers and eventually leads to plenty of easy buckets.
While East Georgia (10-21) had weapons like Aaron Reddick, who finished with 12 points, GHC had players that could hurt opponents from deep or inside. That includes Bernard, who made three 3-pointers while also crashing the boards for wayward shots.
"For me, what I want to do is bring everything to the table, whatever coach wants out of me that night," Bernard said. "I want to do it to the best of my abilities, whatever it is."
The Chargers kept things moving in the second half, scoring 14 of the half's first 18 points and eventually pushing the lead past 30. East Georgia was never able to get its offense set, and Gaffney's squad took advantage.
It's the style for which GHC is known — causing chaos so the game becomes more of a track meet. It's also for what the team practices.
Gaffney insisted the importance to keep this frenzied style against whoever they play in the postseason.
"Our style is we make it ugly and don't let you run your offense," Gaffney said. "We make it crazy basketball, but in the pursuit of that there's plenty of threes and dunks. It is very very exciting. It is our style. It's what we do."
Sophomore forward Kyvon Davenport was named GCAA player of the year earlier this week after averaging 17.1 points and 10.5 rebounds and 2.9 blocks per game. While other Chargers shined brighter in Tuesday's game, Davenport has still recorded 20 double-doubles this season.
Evans earned GCAA defensive player of the year after averaging 4.7 steals per game. Ty Cockfield, who averaged 16.6 points per game, was named first team All-GCAA.
The individual honors are significant to the program, but the team accomplishments are the thing Gaffney remains most concerned with. And with performances like Tuesday's, GHC is hoping to make noise in March once again.
"We don't care about individual awards. I wish we never had individual awards," Gaffney said. "With us it is about playing hard and sharing the ball every game. If we do those things, we can compete for a national title."